SNYDERNOMICS
(
In honor of Free Agency and the Haynesworth deal I dug this up from the vault
)
That phrase has been used
a few times on numerous other blogs, opinion pieces and message boards but rarely has anybody defined
Snydernomics
and how it affects you, your team, the universe etc. I double checked
Wikipedia
just to make sure nobody had a definition and since I couldn't find one well let me try to define the term. I mean isn't that what
IIWII
is about anyway.....overused catch phrases?
Snydernomics
(
Sni
-
Der'Nom
-
Iks
): A combination of the businessman/owner of the Washington Redskins (Daniel Snyder) and economics. A controversial method of making revenue through spending and then raising prices for consumers. Usually used as a derogatory phrase for owners of professional team sports that is attempting to win via "buying a team" or selling tickets/merchandise for high prices/high profit. Similar terms:
Yankeenomics
,
Cowboynomics
.
Definitions:
1. To find ways to create revenue for a franchise that already is highly profitable and has a great deal of fans/consumers willing to buy said product.
Examples: Expanding stadium with more seats, creating obstructed view seats, the infamous $8-$9 dollar beer.
(I will touch on this aspect more later, I'm more interested in point #2 for this post)
2. To acquire the most sought after talent or talent that has been considered "superstar" quality but is past their prime. Usually, this involves over spending (via salary/bonus and draft picks or both) and at times bidding against oneself and raising the price even more for a player that nobody else wants (or is willing to spend that much).
Examples (oh boy, are there plenty):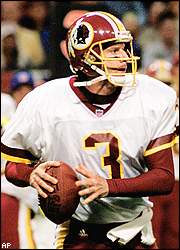 The Super Powers
(aka The
Waaay
too Over the Hill Gang, The All- Madden Team Fail): To better a successful 1999
NFCE
winning team, the Redskins try to buy a championship by bringing in expensive free agents like Bruce Smith,
Deion
Sanders, Mark Carrier and Jeff George (left). The Skins finish 8-8 (3rd in the
NFCE
) and with the exception of Smith, none of these players make an impact and are gone within two seasons. Smith stays long enough to break the all time sack record and looking generally average in the process. I guess the only good thing that came out of it was the firing of
Norv
Turner, but then we eventually hire this guy instead.....
The '

Ol

(
goof
) Ball Coach
:
Spurrier
at the time was the hot college coach (like Pete
Caroll
of
USC
is now) that
alot
of people thought would be a great NFL coach
brining
his Fun and Gun system to a NFL that wants to score a million points a game. The problem:
Spurrier
was more dedicated to his golf game than he was winning with the Redskins. Can't really blame him I suppose, as the Redskins drove a truckload of money to his house ($5 million a year) to test a scheme. Who need adjustments? Patrick Ramsey becomes a punching bag......oh well Danny
Wuerffel
will save the day. And practice, if it's raining we'll just
skip it
I mean we don't want to get our hair wet or anything. 12-20 in two years with
Spurrier
.
Clinton

Portis
: In Denver,
CP
had back to back 1,500 yard seasons and was averaging 5.5
yds
/carry and he wanted a new contract. Enter the Redskins. We had a disgruntled Champ Bailey who wanted a new contract (and a new team) and so we trade. But not so fast, we give up a former 1st rounder and the "best" shutdown corner in the league (
I'm sorry but if

Amani

Toomer

owns you you're not a shutdown corner in my opinion
) for a former 2
nd
rounder that at the time was being credited for being a system back (he's not by the way and here is
CP's

take
on being a "system back" [go to the question from
goskins
]- BTW
goskins
was my original handle at
ExtremeSkins
) and a additional 2
nd
round draft pick for
CP
. Plus, we give
Portis
a new contract and make him one of the highest paid players on the team. Now unlike the other examples,
Portis
has been
incredibly productive
during his tenure as a Redskin. He is also one of my current favorite Redskins but again does fall under the principles of
Snydernomics
.
Brandon Lloyd and Adam

Archuleta
(aka Super Fail Bros., Just when you thought we learned enter 2006): The Redskins needed somebody to be opposite of Santana Moss so they looked into Lloyd who was known for making amazing one-handed catches and was fast. Luckily the Skins had already used their 1st rounder of 2006 (traded in 2005 to get Jason Campbell) but traded a 3rd in 2006 and a 4
th
in 2007 to acquire Lloyd. Then they tore up his contract and paid him top dollar (6 years- $30 million with $12 guaranteed) to only catch 25 balls in two years with no
TDs
. Sadly,
he actually caught one more pass
in his year with the Bears in 2008 and will cost the Redskins $5.3 million in 2009 in Dead-Cap money.
Archuleta
, replaced Ryan Clark (who the Skins decided they didn't need or were willing to pay a
reasonable
and affordable salary) and gained at the time the highest salary ever paid to a safety (about 6 years/$30+ million). By mid-season he was the highest paid Special
Teamer
in NFL history as he was demoted to teams. Basically,
Archuelta
had become a guy who couldn't cover anybody (just like Roy Williams in Dallas) and he could occasionally make a hit.
So, Have the Redskins Learned Anything?
I'm not really sure. I thought in 2005 they had learned the lesson that
Snydernomics
isn't really prudent. That year the Skins stuck to the draft (even going after Jason Campbell by making a trade with Denver) and spent little on the Free Agent market (Casey
Rabach
). But then came 2006 and the radical spending of money for three players (Lloyd,
Archuleta
and
Randle
-El) that really have been
disappointing
. 2007 we added London Fletcher but much like
Portis
is still putting up quality numbers and is providing leadership.
I was hoping that in 2008 when we finally promoted Vinny as our officially unofficial GM in charge things would change since it was now his neck on the line.
(I drafted 10 players in 2008

Deadman

. What more do you want?)
This is true, but of course we made some trades again. Now, I personally don't have an issue with the Erasmus James trade. We didn't give him a new contract and it only cost us a 7

th

rounder for a player that at one time was a 1st round talent. The Jason Taylor trade was a desperation move and if we just needed a pass rushing DE to make us a serious contender, then you can't fault a team for making the move. However, for the Skins to make such a move with a struggling offense an old O and D line and a rookie head coach makes it a bad move- especially based on the salary and performance by Taylor.
Also, the rumored/supposed "trade" of 2 1st rounders for Chad Johnson/

Ocho

-

Cinco

is a scary, scary thought and I hope it was more BS and/or a favor to Drew

Rosenhaus

(to get his client more media attention and make the Bengals look stupid) than a serious offer.



I've read a few comments/posts/blogs by other Skins fans wanting Zorn's head on a pike and that we should go at all cost after Bill

Cowher

. Same with backing up the money truck to Albert

Haynesworth's

house and signing him b/c one

DT

will make us a champion. I'm sorry, but I think some of you are buying into

Snydernomics

. You like the big name, the splashy move, the media headlines. And yes, it is nice to hear about the Skins on a regular basis, especially when we're in the off-season and we're desperate for a Redskins fix.


Cowher

won't work b/c he'll want full control of a team, that doesn't want to give full control to a head coach. So in the end we'll have another repeat of the 8-8 Marty year and

Cowher

will collect a nice $10 million paycheck.....and the Redskins will still be mediocre.



Haynesworth

(or

Suggs

for that matter) would be nice additions but again will be the top FA prospect out there looking to score major dollars (note: even if the Skins aren't interested, expect our name to be thrown in the mix to raise the price- this is now a common agent tactic with the media). If we sign him, where's the depth? Montgomery,

Golston

will be free agents and I think Griffin will be a cap-casualty. So that leaves

Haynesworth

and Alexander and little money to sign depth at the position. Plus, how does that help our struggling offense?

So that's

Snydernomics

.....watch out for it and don't buy into it. Maybe one day the front office will learn and

Snydernomics

won't even exist.