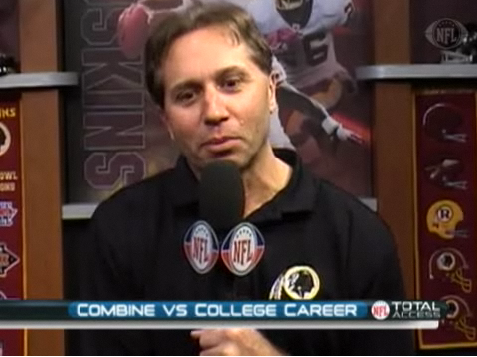 (
Antonelli!!!!
)
Vinny made the tour of football related shows the last few days as he was featured on both Redskins Nation (Wednesday- taped the week prior) and made an appearance on NFL Total Access (Tuesday). Here's the highlights:
- Vinny discussed with Larry Michael about making tough decisions with veteran players and how it is difficult to let players go even though they are great guys and leaders. (
Ed: I think this is a critical issue coming up now and next year for the Redskins as the Skins have good guys who are leaders on the field but are old and have lost steps; Wait and See how that works out.
)
- Vinny then broke down parts of the combine and how it works:
1) Players are only there for about three total days with the workouts being on the final day.
2) Teams usually brings about 40+ staff members to the combine including trainers, team doctors, psychiatrists, coaches, scouts and GMs.
3) Position coaches are also there about three days (same time as their positional prospects are there).
4) The teams get a chance to interview the draft prospects in the evening back at the hotel.
- Vinny looks for "functional speed and power", which basically means that you're looking for players who are fast and strong on the field not just when they're in shorts or bench pressing weights (Cerrato mentioned how guys like Chris Horton and Jerry Rice aren't the fastest players when it comes to 40 yard dash time, but are very fast on the field).
- Vinny also looks for speed and power that fits the team's schemes and not just fastest/strongest guys. He mentions that b/c the Skins run more man coverage (vs. Tampa 2 zone or other schemes) that the Skins look for certain skill sets and speeds in their corners compared to the skill sets of another team (say Tampa for example).
- Vinny also noted that the combine results haven't led to the Skins drafting anybody (although noted Devin Thomas ran a good forty at last years combine).
Comment:
Vinny is comfortable talking to Larry Michael. I've noticed that when Vinny is comfortable talking (whether on his Radio show or Redskins Nation or Redskins Pre-game segments on radio) he really seems to know how the GM game works and what a FO is supposed to do in evaluating talent and finding the right players for the team. I can see why he was hired as an analyst by ESPN in 2001 (when he was fired from the Skins). But when he's not comfortable you get what you get on the other show............
NFL Total Access

-On the overall use of the combine in drafting a player: it's a small piece of the overall puzzle, where game tape is much more a larger piece (compared Fred Davis' poor combine with his game tape that lead to his drafting).
- Importance of drills: they "look at every drill" evaluate live and then study the combine tapes which has better breakdowns at once.
-Players Skipping drills: doesn't bother Vinny much. He knows how important that one forty can be in the combine and understands why players would rather only run it if 100% or if they are comfortable.
-The Skins use the combine to watch players and see how they interact during drills with other players. Are they leaders? (
Again the Redskins emphasizing character as a key component
).
-End of interview:
Interviewer: "Thanks for sharing your views with us."
Vinny: "Alright Derrin, looking forward to it."
Comment:
Not really much learned in this segment. Vinny shares little about what the Redskins are doing (I'm not surprised although I expect most wanted plans revealed- It's not happening BTW) and just talks in general what teams look at during the combine. Nice to know that the Skins are still following Gibbs' lead in focusing on character players. I'm not sure when or where the Vinny segment took place (Was it live? Not sure. I skipped most of Total Access to watch the interview) but it looked like it was at Redskins Park. Vinny looked like he just woke up or finished a workout or something (see above picture). Vinny also looks like he has a cold or sinus problems in this interview......you could hear a snorting sound everytime he took a breath. His final comment meant that he was looking forward to the combine, but many will jokingly take it as Vinny looking forward to his views (since the interview is over he must have none). Not the most glowing interview for Vinny.
Which brings me to the fans. It always amazes me how bitter Redskin fans have gotten over the years. The pure, unbridled hatred of Dan Snyder and Vinny Cerrato is really surprising even after making the playoffs twice during Gibbs' second tenure. It's almost like some Redskins fans want the team to lose just to rub it in everybody's face. "See I told you they don't know what they're doing. They suck." I watch football because I enjoy the game. I watch the Redskins because when they do actually win it's a great feeling. If you don't get any joy out of this maybe you should take a break from it. I actually did during a decent portion of Norv Turner's tenure.
More News:
Expect some news from the combine on whether the Skins re-sign DeAngelo Hall or Demetric Evans. The Skins plan on trying to re-sign these two players then (
From Redskin Insider
).
Meanwhile Evans wants to come back to the Redskins but he wants to be a starter (and paid so as well), which I'm not sure the Skins wnat to do this (
From Washington Times)