Ok
, let's get started...again.
No More

Blue

/

Red

Parking Passes?
Not a big deal if don't go to games but it could be a serious issue for those (like myself) attending games. One evening after a lousy day at work, my wife told me I had received a letter from the Skins. At first I thought it was a letter informing me of a ticket upgrade, but it was that my
Blue
parking passes had been upgraded to
Green
.
Now, when I heard this I was ecstatic for a few reasons:
1. It's a much closer walk to FedEx than from the
Blue
lot.
2. There are some great tailgates going on in the
Green
lots and I actually know some of the people involved, so it gives me more reason to get there earlier a be a part of some tailgates.
Of course, there are some nice things about the
Blue
lots as well that I would miss:
1. I know the lots and how easy to get into them (
ie
. I know where I'm going).
2. More room. There are a great deal of median areas in both
Blue
lots, which is nice for tailgating without getting in other peoples' way.
But then (
via

Extremeskins
) I found out that I wasn't the only one getting parking upgrades from the
Blue
lot.
Now it hasn't been officially made clear whether the
Blue
lots are going away (they are leased to the Skins from the adjacent Church of Jericho buildings) or if the
Red
,
Blue
and
Green
lots are just becoming all
Green
lots. But it will be something to watch and see if you may need to come even earlier to get a good spot. I have about a 2-2.5 hour trip depending on traffic (especially if there is an issue with the Bay Bridge) so the way it's going, for a 1PM game I may have to leave for FedEx before dawn (or earlier)......I hope somebody makes coffee at the tailgates!
If anybody has any inside info. on this, please leave a comment (you can do it anonymously) or PM me over at
ExtremeSkins
.
Just an FYI to season ticket holders, the ticket office is working on upgrades, but apparently won't be done with the upper bowl (where my seats are) until mid-July. Again, I'm hoping to move down a few rows and get closer to row one, but I can't complain......
Here's a picture from the Giants@Skins from 2007.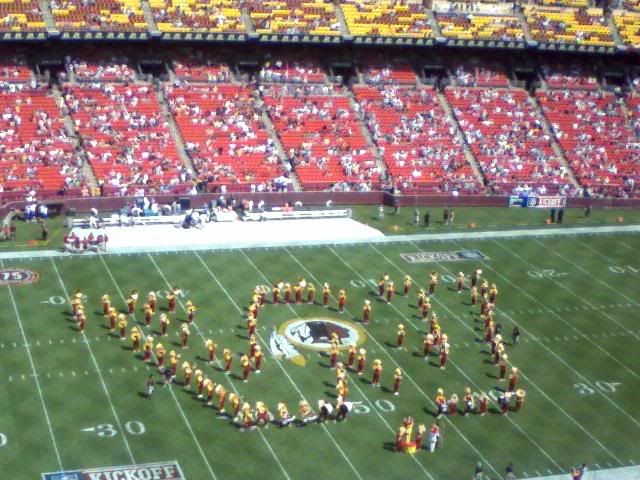 Are You Going to Training Camp?

The Skins
have announced the dates where fans can attend training camp and watch practice. Here are the dates:
7/30, 7/31, 8/1, 8/2, 8/4, 8/5, 8/6, and 8/8
Note:
all the practices are at 8:30AM with exception of 8/8 which is Fan Appreciation Day.
I went to Fan App. day in 2004 and while extremely crowded and somewhat disorganized at times (
notably when people were getting in lines to meet and get autographs from the players
), I had a pretty good time. My friend got to meet Sean Taylor and I got to meet Joe Bugel, which was the highlight of the day for me.
Here's some pics from that day: