Farewell, James Thrash

Long time veteran WR James Thrash was
released from the Skins
on Friday after he failed a physical. Thrash had missed OTAs because of a
neck injury
and the Skins were waiting to see if Thrash would have surgery to fix the damage or possibly retire. Thrash played for the Skins in two stints. One coming as UDFA and playing from 1997-2000. The second where Thrash was traded from the Eagles to the Skins from 2004-2008. He also played three seasons for the Eagles from 2001-2003.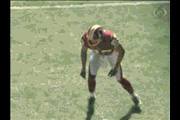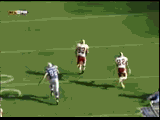 (
Thrash catching a TD vs. Dallas, returning a punt vs. Detroit
)
Thrash was one of Joe Gibbs' "core Redskins", a player that always worked hard and did whatever the team needed him to do to help the team succeed. He returned punts, played special teams, played a decoy and was a run blocker. Of course he also caught the occasional pass as well. With Thrash gone, the Skins currently have only four WRs that are guaranteed to make the roster (Moss, Randle-El, Thomas and Kelly) so this does open up 1-2 opportunities for the current roster of wide receivers to make the team. The Skins will also have to find a new team NFLPA representative as I believe Thrash was the current NFLPA representative.
Good luck in your future endeavors, James and much like Jon Jansen I hope that one day you will also officially retire as a Skin.
OTAs Are Over....

....and now begins the worst part of the year for the football fan as nothing is going on for the next month and a half. Basketball is pretty much over, same with Hockey and Baseball really doesn't have much until after the all-star break. But fear not loyal reader, IIWII has some articles planned to help tide you over until training camp starts. Entitled "Let's Look at the....." will look at each position for the Redskins. It will show the players, areas of competition and players to keep an eye on as training camp continues.
So What Have We Learned From the OTAs?

A little, but it's always hard to tell with OTA evaluations. I mean as fans, you don't get to see every drill or play. So you can't really tell if a player is better at running routes or if the team is having a better time grasping schemes. The coaches learn many things but they'll learn even more once the pads come on in training camp. Anyway, here are a few things that we have learned so far:
1. Malcolm Kelly has fully recovered and appears ready to go for training camp.
2. J
ason Campbell has taken over his offense
, something that has been mentioned if he is to succeed.
3. Mike Williams is getting closer to his goal of being around 350 lbs. come training camp.
4. Brian Orakpo is still practicing as a SOLB and looks like he will be playing the position at least come training camp.
5. Chris Horton has been
named the starter
at SS over Reed Doughty.
6. Fred Smoot is a good
bowler
.
7. Coach Zorn feels that the team has
gotten a better grasp
on the offense and are adding more to their schemes.
8. Laron Landry found and makes the last
OTA day more interesting
.
Draftee Signings (4 down, 2 to go)

The Redskins have announced the following draftees have been signed:
Cody Glenn
(5th),
Robert Henson
(6th),
Eddie Williams
(7th) and
Marko Mitchell
(7th).
The Skins also released Tyson Smith and Jeremy Cain to keep the roster maximum limit at 80.
Technically, the Skins have 82 players but only 80 players have signed contracts as Brian Orakpo and Kevin Barnes have yet to have deals in place. When they sign, two more players will be cut from the current squad.
FedEx Parking Update

I called the ticket office to find out about the parking and this is what I have heard.
1. The Blue lots (Jericho Church) are no more.
2. The Red lots may also be gone, but the Skins are currently in negotiations to maintain that lease.
3. The Redskins are building a new lot (gray lot) on their property.
It will be a very confusing and probably a frustrating time parking for the early games this season. My only advice is to get there early, but that will also be a problem for me as well.
Finally I'll end on a semi-humorous note as the annual football season preview magazines have come out and as usual the Redskins are predicted to be dead last in the NFCE. One magazine had them 4th place but with an 8-8 record. And the early Superbowl favorites: Chargers over Eagles in one magazine, Patriots over the Giants in another.
Of course last year Pro Football Weekly had the Skins going 6-10 and the Cowboys winning the Superbowl over the Patriots. Sporting News had the Skins going 4-12.
Oh well, just something else to complain about. My wife asked me why I buy these magazines since they never have much good things to say about my team (and I usually disagree with them)? I said, because it's a good way to keep up with what the other teams are doing. Of course, if I disagree about their rankings on the Skins, what does that say about the rankings of the other teams.........