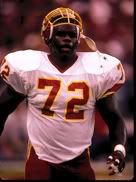 "Dexter Manley has always been a force of nature. And, like all forces of nature, he was at times simultaneously awe-inspiring and beautiful, dangerous and destructive—a human pendulum moving back and forth between glory and disaster. On the football field and in life, we've never quite been able to turn away from the show. During nine dominating seasons, he was both the best of what it meant to be a Washington Redskin, and the worst."
Excerpt from
BGO Exclusive: Dexter Manley
click
here
to read the entire article. This is a great profile on my favorite Redskin written by John "Boone' Jeffries that I thought any Redskin or Dexter Manley fan would appreciate.
If you haven't checked out BGO yet, now you have reason to do so.