So now it's official.......and I feel ill.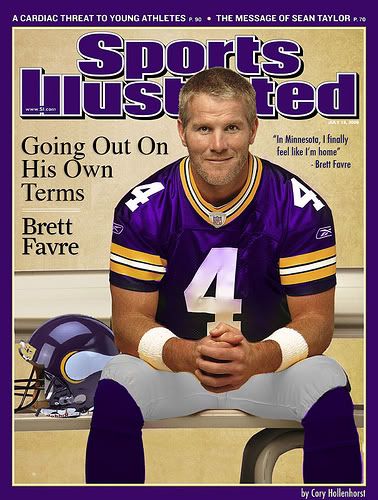 (
Ha Ha, thought I was retired......Suckers!!!!!!
)
Maybe I'm just cynical but is it just me or I think this was planned all along? Let's see, by signing now Favre has been able to skip most of training camp. Plus, he gets all of the attention because Mike Vick already has a new team so there is no more speculation about him.
Yes.......it's all Favre all the time and it drives me nuts personally. There are actually some pretty good quarterbacks in the NFL who don't have the name Favre on the back of their jerseys and yet ESPN and most of the other outlets will be on non-stop Favre watch.
So the Vikings are Superbowl or bust pretty much now, forget the Giants or the Eagles it's the Vikings that will be everybody's favorite now. But a warning to coach Brad Childress, the last coach who hedged his bets on the aging quarterback that's well over hyped, he got fired.