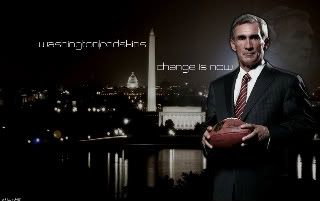 (Pic by rd421 of ExtremeSkins)
Right now? Not much. This is a pretty dead time for NFL teams not in the playoffs. With the exception of the Pro Bowl (
Orakpo and maybe Fletcher
), if you can stomach it, there won't be any big Redskins news until around free agency. By then we'll have an idea about what schemes the Skins may/will be using in 2010, if there will be a CBA and who's staying and who's going.
Outside of Shanahan hiring his staff (
bring in Mike Zimmer!!!
), we won't be hearing much more about the Redskins until late March. As you probably know by now Mike Shanahan is the new head coach of the Washington Redskins. It's a big move obviously and I really didn't cover the story of the ascension of Shanahan and the departure of Zorn because.......well, I was at work (
my real job
).
Today was the first day I've been off in about two weeks and they've been some long, heavy duty hours. So, it's been pretty hard to write a nice thoughtful entry when you're tired and need to get to bed. Don't worry, I have plenty to say about Shanahan. You may have already read it somewhere else, but I'll be adding my two cents to the hiring of Mike Shanahan and the return of the Redskins to credibility.
- IWWII will keep monitoring who the next position coaches will be. One hopes that most of the current Zorn staff will be gone. The general consensus from many 'Skin fans is that Joe Bugel will retire and I will have a nice story of how I met the legendary "Boss Hog" at the 2004 training camp.
- There are rumors that the Skins may go to the 3-4 defense this year. We might do so X's and O's on what the 3-4 is vs. the 4-3 schemes that the Skins have used.
- I'm not a pro scout or a personnel guy, but I'm doing my homework and doing some "scouting" on some players. So far, I've been watching Tony Pike, Tim Tebow and Russel Okung. I'll have a report on some of those guys and my thoughts on what the Skins should do with their draft picks. Oh yes, Meaningless Mock Drafts will return to IIWII.
-There are rumors of a new Jumbotron at FedEx and my on going saga as a season ticket holder (
yes, I'm gullible
). Invoices are coming and the Skins have already been calling about tickets.........
- 2009 season awards and a final recap of the season is coming.
-SHD will be covering the playoffs since his Ravens are still alive and facing the Colts (and Matt Stover) next week. I might pop in and make a comment, but I'm just not that interested in this year's playoffs.
Keep following IIWII, we have plenty in store for you.