This is the time where current Redskin fans have been extremely happy over the years because it's the one time where the Skins take center stage and actually win something. Sad isn't it?
(
the unofficial T-shirt/Motto of the Washington Redskins during Snyder's ownership
)
Well, here it comes again as we head closer to free agency and the "rumors" by those pesky "sources" start to show and the Redskins are linked to every player whether it's true or not. For me, from now on I'm going to go more by John Keim's reports over at the Washington Examiner. He called the move for Haynesworth weeks (
month?
) in advance long before free agency started. But I'm also keeping an eye on what ESPN's Adam Schefter is saying. As many of you know, Schefter has close ties to Mike Shanahan and I wouldn't be the least bit surprised if Schefter is either leaked some info or provides a few smokescreens for Shanahan during the whole free agency/pre-draft period.
So who are the players that the Skins have been linked to going after or rumored to be going after?
1.
Julius Peppers
- This rumor has been around for awhile and I think was even floated last year before the Panthers franchised Peppers. Peppers has been a nightmare for the Skins when he has played against them. Peppers has commented that he would like to play in a 3-4 (
as a OLB
) and that is where the Skins are likely headed as their base formation in 2010 (
although the belief is that it will be a hybrid form that will sometimes be a 4-3 base as well
). Many consider him to still be an elite pass rusher. But there's a few problems with going after him. First is that Peppers is 30 years old. The Redskins already have a 30 year old OLB/DE in Andre Carter. If Peppers comes in who is the odd man out? Andre Carter, who had an very nice 11 sack season in 2009 or 2nd year beast Brian Orakpo who also had an 11 sack season and should get as much opportunity as possible to go after the QB? Granted, Peppers is more talented than Carter but wouldn't this hurt team chemistry? 2nd problem is that Peppers is looking for an "Albert Haynesworth type" of contract. This isn't that big of a deal money wise b/c we all know Dan Snyder isn't afraid of spending money. What is the concern is that Peppers may not live up to that contract. There is a concern that he will take plays off and sometimes disappears from games and maybe with a big contract will do that more often. Third, he's never been a 3-4 OLB. There is a change in some technique and responsibilities in that position. Andre Carter for example seemed to struggle with the position when he was in San Francisco. Finally, Peppers will be a target of a few different teams including the Bears and Eagles have been mentioned.
2. Darren Sproles
- The Redskins have been looking for that type of running back who is explosive and that can turn a 3-5 yard carry or a screen into a 30 yard TD. Currently the Skins really don't have that type of back who's reliable (
Anthony Alridge has the speed, but has fumble issues
). Sproles also provides help at the KR and PR positions. Even though Devin Thomas has earned a shot at being the teams starting KR, there is a clear vacancy at the PR position. Antwaan Randle-El can't even make fair catches anymore and you don't want to risk your #1 WR and #1 CB (
Moss and Hall
) to injury by putting them out on punt returns. The biggest problem is that Sproles is looking for a contract that would pay him #1 RB money, which means you'd expect him to make more carries and be used less as a change of pace back/3rd down back/special teams specialist which is not what the Redskins need in a smaller back. Maybe Sproles could be the next Michael Turner, but with a pretty talented RB draft class you have to think whether this move might not be the smartest one when there is going to be some talent available for the Skins in the 4th and 5th rounds.
3. Karlos Dansby
- Initially, I thought this would be an ideal move with the move to a 3-4. Can you imagine Dansby in the middle with London Fletcher? But then I thought "What about Rocky McIntosh, where would he play?" Obviously that is a big question since one would think McIntosh should remain in the Redskins future plans. If the Skins used the 4-3 base, the question should be whether or not Dansby could move to the SLB position to allow Orakpo to move to DE or would the spot have to be filled by Chris Wilson or HB Blades. It's always better to have more talent on the roster than you need. This still looks like an intriguing move if the Skins make it.
4. Antrel Rolle
- Rolle become a topic of discussion over at BGO based on his impending release and (
for Cardinal fans
) his resigning for a more team friendly long term contract. Rolle will always be linked to the trifecta of top corners that came out in the 2005 season that included Rolle, Pacman Jones and Carlos Rogers. Jones is out of the league and is begging teams to come and watch him workout. Rogers has been good at times and bad at times leading to being benched twice in the last two seasons and has trouble with holding onto interceptions. Rolle had to convert from corner to safety, but has done well. Redskin fans would love to have Rolle with the hope that he could be the starting FS, thus allowing LaRon Landry to move back to his natural position at SS. The only real problem with trying to make this move is that the Cardinals want Rolle back and that Rolle per
OCNN
(
Ocho Cinco News Network
) still wants to be a Cardinal.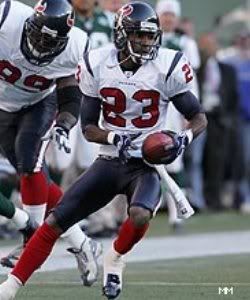 5. Dunta Robinson
- Like I've said in the post about Rolle, the play of Carlos Rogers has been inconsistent. Now, the big question is whether the Skins current coaches think it's scheme or if it's the player. Either way, the Skins have needs at the corner position. Besides DeAngelo Hall, there's not much there or that we know about. Rogers is a RFA and my guess is that the Skins will tender him. What I'm not sure is whether the Skins would match an offer or what it would take to let Rogers go (I'm thinking 2nd or 3rd round picks). Beyond Rogers is an aging Fred Smoot who may become the Redskins stop gap FS. 2009 3rd rounder Kevin Barnes who was never used last year, so we have no clue what he'll do at the NFL level. Justin Tryon who has improved greatly from his rookie season in 2008, but is more or less a nickle corner in the league. Robinson could solidify this unit and even if Rogers somehow stays a Redskin beyond 2010 could vastly improve the depth at the position. Mike Shanahan is willing to go after good corners and it wouldn't surprise me if the Skins take a look at Robinson, who is a #1 corner on most teams.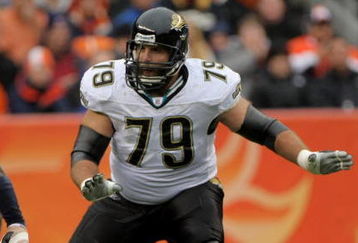 6. Tony Pashos
- It's not a sexy pick at all by Redskins standards, but the current facts are that the Redskins have no one on the roster to play LT (
Chris Samuels is about to retire and Levi Jones is a UFA
) and the RT position is weak at best. Stephon Heyer has shown that he can't be a starter and there really is no one behind him that has any experience at the position. Simply put, the Redskins need tackles. Pashos would probably battle Heyer for the starting RT spot and most like would be the starter in 2010. He might be willing to come to DC as well since he has worked with current Skins OL coach Chris Foerster. Much like Rolle, however, the 49ers are going to try and have him re-signed before free agency starts.
If this was the Vinny Cerrato Redskins, I would almost guarantee that 1-2 of these guys if not more would be Redskins with no cap to hinder the organization. Now, in the Mike Shanahan era, I'm not so sure. I think Shanahan will go after some of these players, but only if they fit the character that he expects of his players and if they fit the schemes that the Skins plan on using in 2010 and beyond.
Until March 5th gets here......the waiting game continues and so will the rumors of the Redskins having interest in every player available.