It's that time again for weekly Redskins news and notes, but with some big NFL news taking place we'll discuss that here as well. Let's start with the NFL first.
NFL News and Notes
Thoughts on the new overtime rule:
I understand the NFL's motivations to have games not decided by coin flips, but I think they went about this in a generally half-assed way. Dubbed the
Brett Favre rule
by many since the Saints won in OT without the Vikings touching the ball in the game after Favre's interception by Tracy Porter in the 4th qtr,
the vote passed 28-4
. Ironically, Vikings owner Zygi Wilf voted against the change. The new rule will allow the team that wins the coin flip to still win the game without the opposing team touching the ball if they score a TD on the drive. If the team only scores a FG or fails to score, the opposing team gets the ball for an opportunity to tie the game (
with a FG
) or to win it outright (
with a TD
). If the game is still tied after each team has a possession, then the "Sudden Death" rules come back into play and the first team that scores (
either FG,TD or safety
) wins. Oh yeah, nearly forgot,
this rule only applies to playoff games
.
Now, it can make the game more interesting in strategy. Coaches that feel that their defenses are the stronger unit could choose to defer and still get the ball back even if there's a good kickoff return that leads to a FG. Also, coaches will debate whether to go the safe route and kick the FG or keep driving to win the game which could lead to a turnover in the process. Also, with few games on during playoffs, the rule may extend the games a bit longer which usually isn't a bad thing for many football fans. Plus, there is a fairness factor which some argue doesn't always exist in the NFL.
Here's the problems with this rule:
1.
The coin flip can still determine the winner:
The idea of this rule was to eliminate the power of chance and it's effects on the game. Yet, if a team runs back a (
rare
) kickoff for a TD or if a team gets 1 big play and scores a TD then the game is over. The idea of the rule was to give each team an opportunity to have a possession in overtime to be fair and so the game isn't determined by some guy in a zebra suit flipping a coin.
2.
This rule devalues kickers
:
Kickers get a great deal of grief in the NFL, especially when they miss a key FG. However, good kickers are valuable assets that win games. Just look at Matt Stover. The guy was practically clutch within 45 yards and won the Ravens (
and Colts
) many games with his highly accurate foot. On the other hand Shaun Suisham terrified many a Redskins fan b/c of his inability to hit clutch FGs (
which led to him being cut after a 23 yd. miss in a close game with the Saints last year
). With the sudden death rule, a team needed to have a kicker that could make key FGs. Now, not as much. Especially if you have a coach who would rather keep the ball out of the opponent's hands and keep driving for a TD.
3.
The rule only applies to the post season:
Sometimes the players don't understand the rules. Case in point: Donovan McNabb,
who didn't realize that games could end in a tie
a few years back when the Eagles and Bengals ended a game with a tie. McNabb has been in the league since 1999 and appears to be a pretty intelligent guy, so imagine the confusion with this rule. Even our St. Joe (
Joe Gibbs
) made a major rule error in 2007 when he called back to back timeouts to freeze a kicker in a game against the Bills that lead to a 15 yd. penalty. This rule is going to cause all types of confusion and I have a feeling it will cost a team a game at some point b/c they didn't fully understand the rule. Also, why is this only being used post season? If the rule is so good why isn't it being used for the entire season. If the rule isn't that good, then why not test it out in preseason and bring it back to a vote in 2011?
I've got a feeling that this rule is going to need to be tweaked a few times over the next few seasons.......
The Draft board may start to solidify after Monday.
Sam Bradford's workout (
which I had listed as the 26th
) takes place on Monday and every team that has a high draft pick and interest in a QB will be there to scout the former Sooner. All speculation indicates that if Bradford is healthy and throws the ball well (
or at his level while he was at OU
) he will be pretty much a lock to be drafted by the Rams. Although, it has been indicated that the Rams have been/are talking to the agents of Suh, McCoy and Clausen, it still looks like Bradford will be the guy at #1. If this is the case, then Detroit will have their pick at DT (
although there is still much speculation that Russell Okung could be the guy
), Tampa can get their DT and the Redskins would have their pick of OT and/or Jimmy Clausen.
McNabb trade rumors......meh
I'm just not convinced that McNabb is going anywhere. The Eagles want too much for him. McNabb wants to play for a team that he can win a Super Bowl (
only destination is Minnesota really and they're still waiting for Lord Favre to make his return official
) and any team that would trade for him would probably want McNabb to do a new multi-year deal (
he has 1 year left on his current contract
) which he wouldn't do unless he 's playing for a winning team. Matter of fact, I would not be surprised if all three Eagles QBs were there next year. The Eagles want even more for the up and coming Kevin Kolb and Michael Vick doesn't have it anymore (
I never thought he was much of a QB anyway. He was inaccurate, but fun to watch him run with the ball. Now he looks like he's lost a step and isn't that guy anymore either.
)
Redskins News and Notes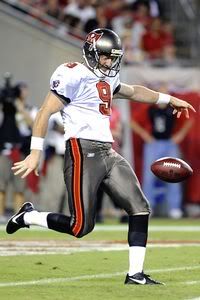 Skins sign punter Josh Bidwell.
This isn't that much of a surprise based on the fact that the Skins needed a punter, that Hunter Smith hadn't been resigned (
as of now
) and that Bruce Allen has some familiarity with him from his days with Tampa bay. I can't complain with the move. I still wouldn't count out the Skins re-signing the
IIWII 2009 Special Teams MVP
Hunter Smith. Mike Shanahan has made it clear that he wants competition this year and no player is guaranteed a starting job and Smith said
he wouldn't mind coming back
. Suits me just fine.
Redskins Press Release: Redskins Sign Bidwell
Redskins Blog: Redskins Sign Punter Josh Bidwell
NFL career stats
Skins dodged a bullet with Joey Porter and maybe he did too.
I don't think many were too upset by the Skins not signing former Dolphin and Steeler OLB Joey Porter. Especially for what the Cardinals paid for him. Despite his on field performance, he's been a off the field headache for his former teams. It doesn't appear that moving to the Cardinals will change that headache either. Porter was arrested early Saturday morning "
on suspicion of drunken driving and accused of assaulting an officer and resisting arrest
". Based on the ESPN story, Porter is very lucky he only was arrested.
Skins re-sign Chris Wilson.
Neither
The Post
or
The Redskins
indicate how long he's signed, but I like the move. Wilson was oringinally a pass rushing specialist as a 4-3 DE. Last year, much like Brian Orakpo, he converted to OLB to provide depth at the linebacker position. This year he'll convert slightly again to be a 3-4 OLB. This may be the best fit for Wilson who is more of a speed rusher and finesse guy. It also means that if Andre Carter struggles in his conversion to a 3-4 OLB, the Skins have some options.
Phillip Buchanon visiting on Monday.
From
PFT
via Buchanon's
twitter account
. It could be a good move for the Redskins. They have some serious concerns at corner right now. Carlos Rogers has been benched twice in the past two seasons and his hands don't jive with what the new coaching staff wants to see in their defense (turnovers). Justin Tryon has vastly improved from his rookie season, but I think he's still at best a nickle corner based on his height. Kevin Barnes was never used last year (Gaaaahhhhh!!!!!), so we have no clue what the 2009 3rd rounder will be like on the field. After that there are developmental guys and special teamers. Buchanon has played for the Raiders, Bucs, Texans and Lions in his career.
Phillip Buchanon stats. via NFL.com
Mike Shanahan wants to scout QBs in person.
"I think with a quarterback, you like to actually see the ball, the spin of the ball, watch the way the guy handles himself," he said. "You see a lot on film, you have the interviews with him, you've met with the guy. But actually to see the delivery in-person is something that I enjoy doing."
This really isn't much of a surprise. If you're going to even consider a player at the #4 position, in particular a position with high bust potential, you want to probably see them for yourself. Shanahan has already met with Tim Tebow and will be there for Sam Bradford's pro day. It is suggested in The Post article that he'll probably be attending Colt McCoy and Jimmy Clausen's pro days as well. If not he can always ask Dan Snyder, since the rumor was that he and Vinny were scouting both Clausen and McCoy before Vinny "resigned".
Brian Orakpo's "scouting report" on Okung, Bradford, Williams and McCoy.
I really believe that the Skins hit the jackpot on Brian Orakpo. I think he'll be a name that is talked about by fans for years to come, so when Orakpo says some pretty nice things about LT, Russell Okung (a guy he played against) it might not be a bad idea to listen to him.
"He's a Big XII guy. A lot of Big XII guys are really good. I've got a lot of respect for Big XII people. Me and him, we had a good battle my senior year. He's a guy that's got great feet, very strong, very athletic for a tackle. Whoever picks him up got a hell of a player, because I know what kind of player he is and he brings a lot to the table as far as stopping those big play pass rushers.......I'd love to see him here. We need a blocker. We need some blockers, so we'll see."
-Brian Orakpo from his press conference via Matt Terl of the Redskins Blog.
He also had some nice words on former teammate Colt McCoy, and Oklahoma players Sam Bradford and Trent Williams. You can read that all
here at the Redskins Blog
.
Quick Hits
-2010 training camp is staying in Ashburn. Make your plans accordingly.
- The Jumbotron is being removed as we speak. For complete coverage of it's dismantling check out Matt Terl's reports
here
,
here
and
here
-Now that the compensatory picks have been awarded, the Skins officially have the following picks: #4 (1st round), #37 (2nd round), #103 (4th round, was originally pick #100), #135 (5th round, was originally #131) and #211 (7th round, was originally #195).
Editor's Note: Would have had this done much earlier today, but got called into work......Arrrgh!!!