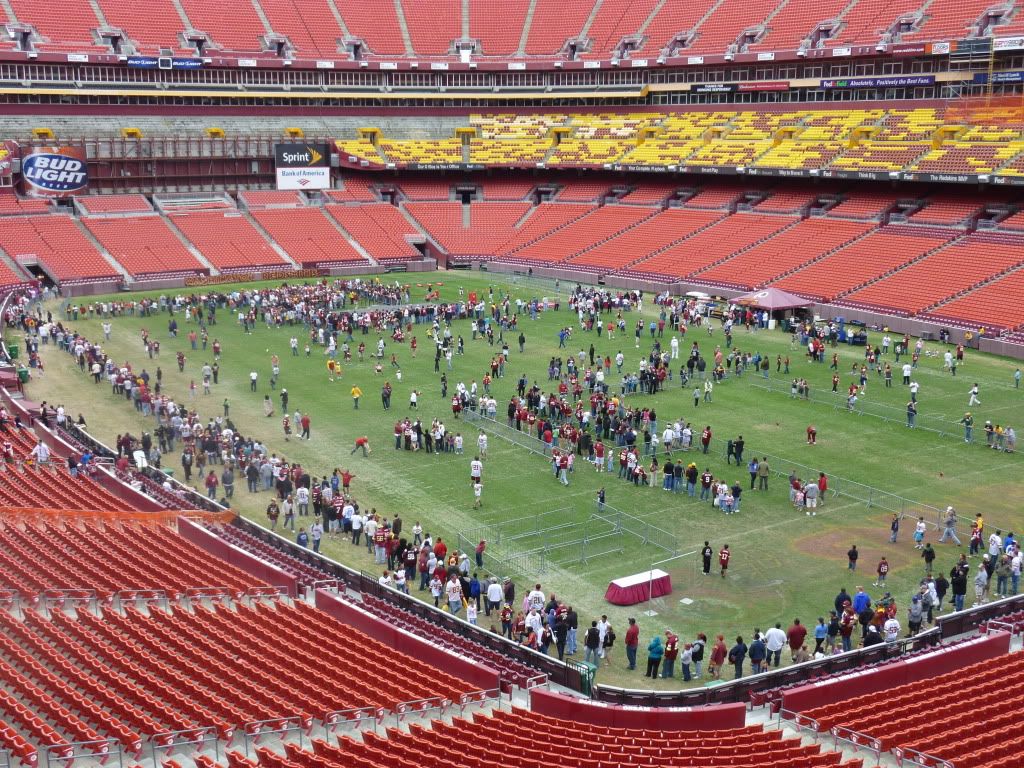 (taken from club level- Photos by Mrs. WD)
So yesterday I decided to make my way up to FedEx with the Mrs. to attend the annual Draft Day Party. This was my first ever DDP so I didn't know what exactly to expect. We first went to the Redskins store and bought some stuff. I got a Colt Brennan jersey for $11. This may or may not be my new McNabb jersey with some duct tape and a sharpie. I also bought some of the old Jumbotron for $5.00 a piece (
see pictures below
). As much as I've made fun of the Lite Brite over the last few years, I figured I might as own part of it. For 5 bucks, I really couldn't pass it up. Plus, the money is going to charity so it's a win-win.
(Bad photography by my cell phone)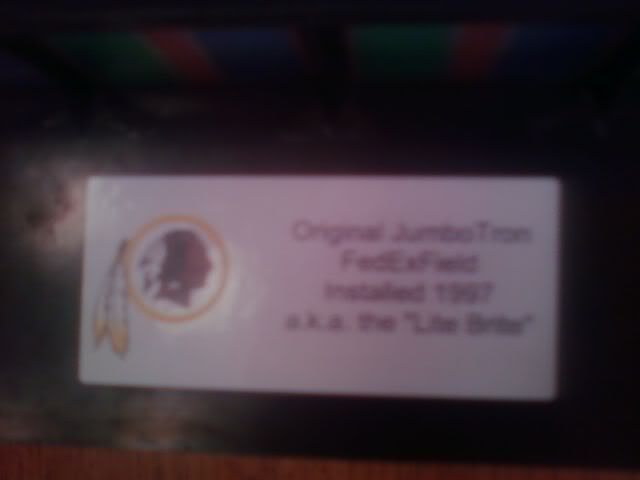 (even the Redskins called the Jumbotron The "Lite Brite")
The worst part of the trip was waiting in lines. But after about an hour of walking through the labyrinth that was the Hall of Fame Store, we went up to the club level to see if we could meet some players.
I've got to say that the Redskins are smart in selling the club level to the fans at events like this. I've never been on the club level before and after Saturday, I actually am curious to see how much club tickets will set me back (
probably still too rich for me, but I'll probably give the Skins a call about them anyway
). So I got to see some cool things while I was up there. The Skins had the Super Bowl trophies out for pictures and also had a section where DeAngelo Hall was doing some promotion for Sprint where he would call the friends and family of fans. I skipped both of those because I was there to see the man, the myth, the legend- Dexter Manley. If you've ever read IIWII or my posts on ExtremeSkins or BGO, then you would know that Dexter is my all time favorite Skin (
weird, since based on my personality you'd think it would be Art Monk
). Anyway, the lines to see him, other alumni and the cheerleaders were huge and I still wanted to get down on the field and see the player's locker room. We decided to grab a few pictures of Dexter (
see below
). Dexter saw me in my #72 Manley jersey, gave me a big grin and a thumbs up. Really made my day. Thanks Dexter!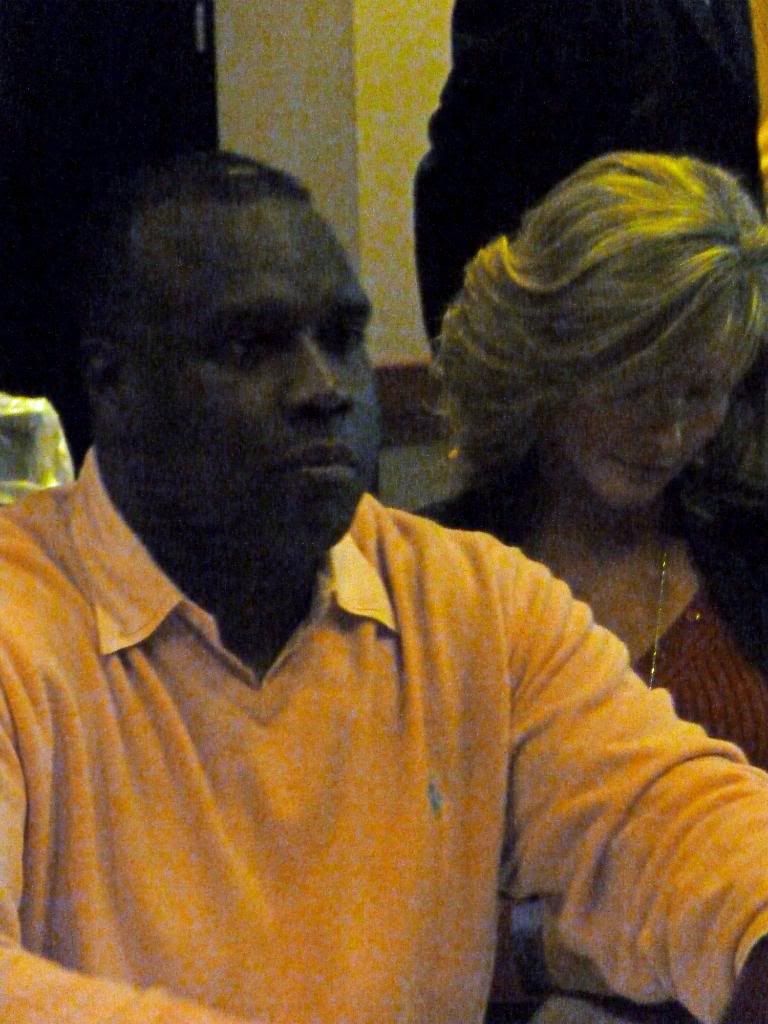 After that, we headed down to the field and got in line for the locker room tour. It's amazing to see the stadium from the field level. I could only imagine how it looks and sounds during a game. The grass was in pretty bad shape and I would bet that the Skins will probably re-sod the field not long after the draft day party. It was a cool scene. Kids (
and adults
) were all over the middle of the field throwing footballs. Some people (
like me
) were in line for the locker room tour. Some were in line to attempt to kick field goals (
heck, I'd bet there were a few out there kicking as well as many of our recent kickers not named Gano have been
) others were doing LB/RB drills. One of the regular Skin "superfans" was out there. SuperSkin was walking around and taking pictures with other fans. Hey, anybody brave/bold enough to don a burgundy and gold superhero costume is good by me. There were also some people waiting for the next players to come out with Larry Michael on stage. We got to see Chris Wilson, Kedric Golston and Lorenzo Alexander come out and talk to the fans.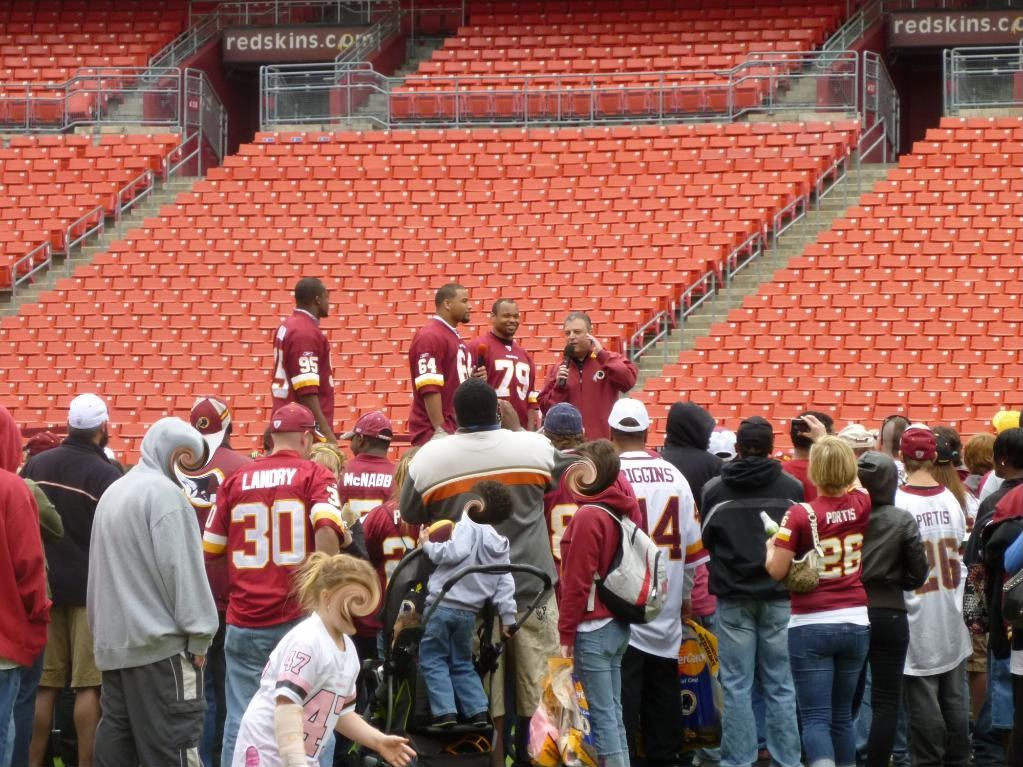 (Ed Note: Even though he's wearing #79, Lorenzo Alexander has changed his # to #97)
We eventually made our way into the Skins locker room and it was pretty cool. But the highlight of the tour was to see the locker of another great Redskin-- Sean Taylor. The locker hadn't been moved to the club level at this time. It was haunting and I'm glad I got to see it in person. It also was one of the best pictures that the Mrs. took that day.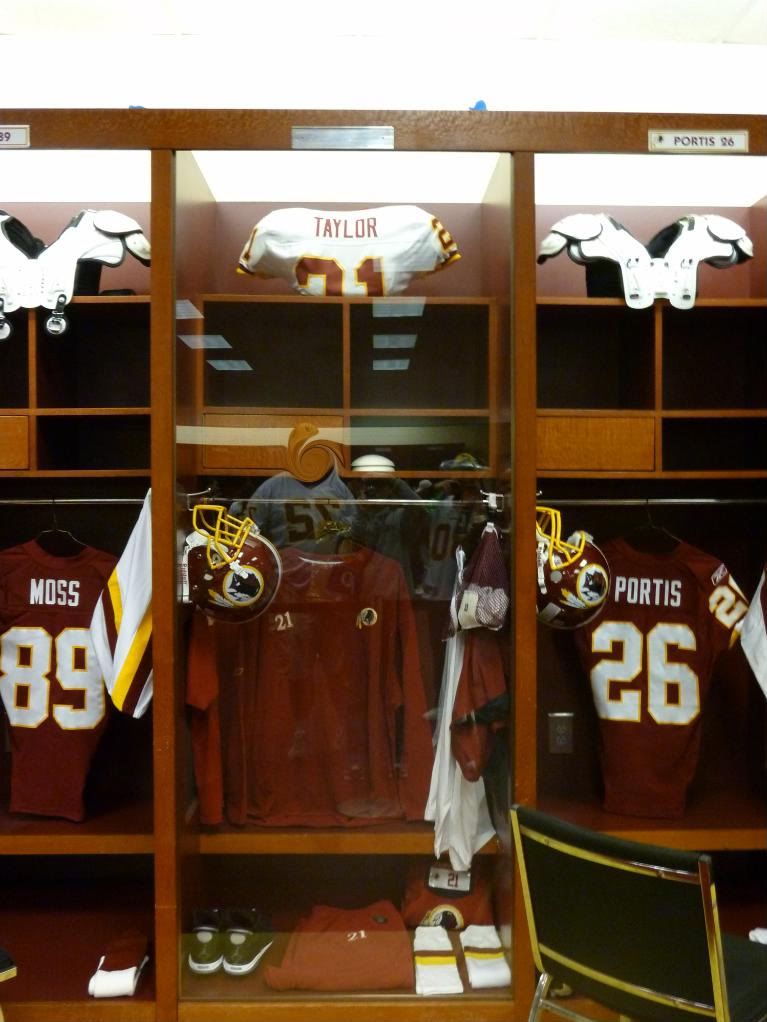 We didn't hang around to see Mike Shanahan. I knew he was going to say something motivational to the fans and the fans would chant something typical like "We Want Dallas" or sing "Hail to the Redskins". By the time we left it was around 3:30PM and we had about a 2 and a half hour drive ahead of us.
I really enjoyed this year's draft day party and if the NFL sticks with the three day format (I'm still not liking it that much) then I will keep coming to the Skins' draft day parties. If you've ever been curious of what it would like to be on the field or in the club level; or to see what the Skins locker room looks like, then this is a good opportunity to check it out without getting ejected from the stadium.
I'll post a few more pics below and I'll leave this post with a shot of coach Shanahan's office in the locker room.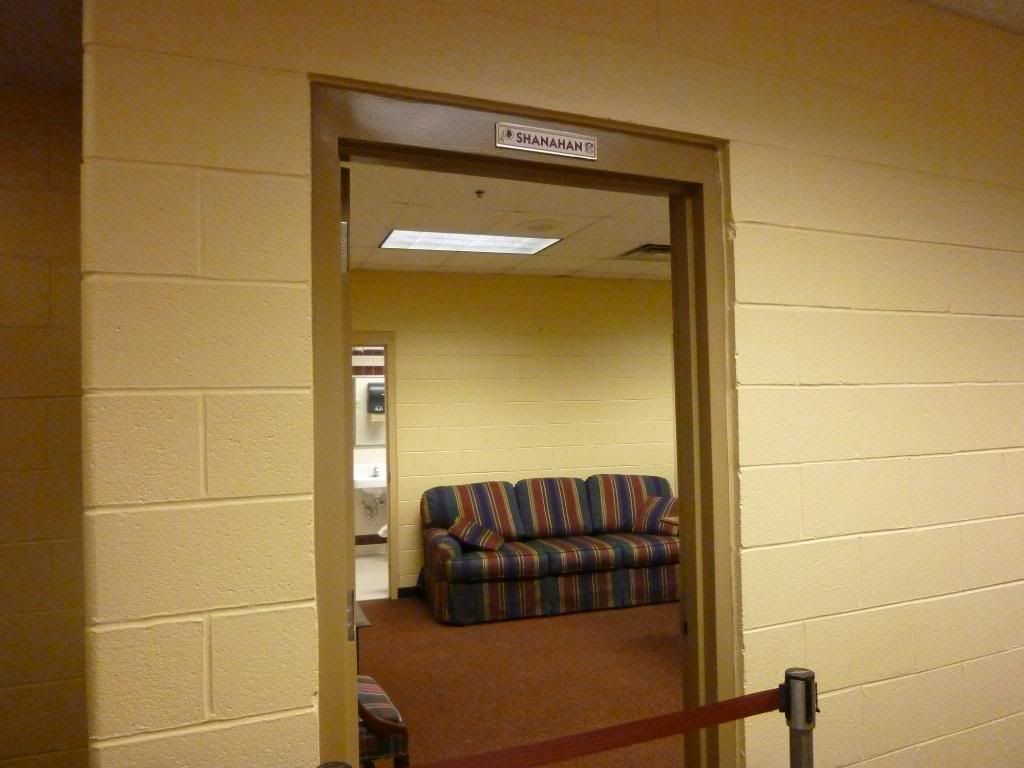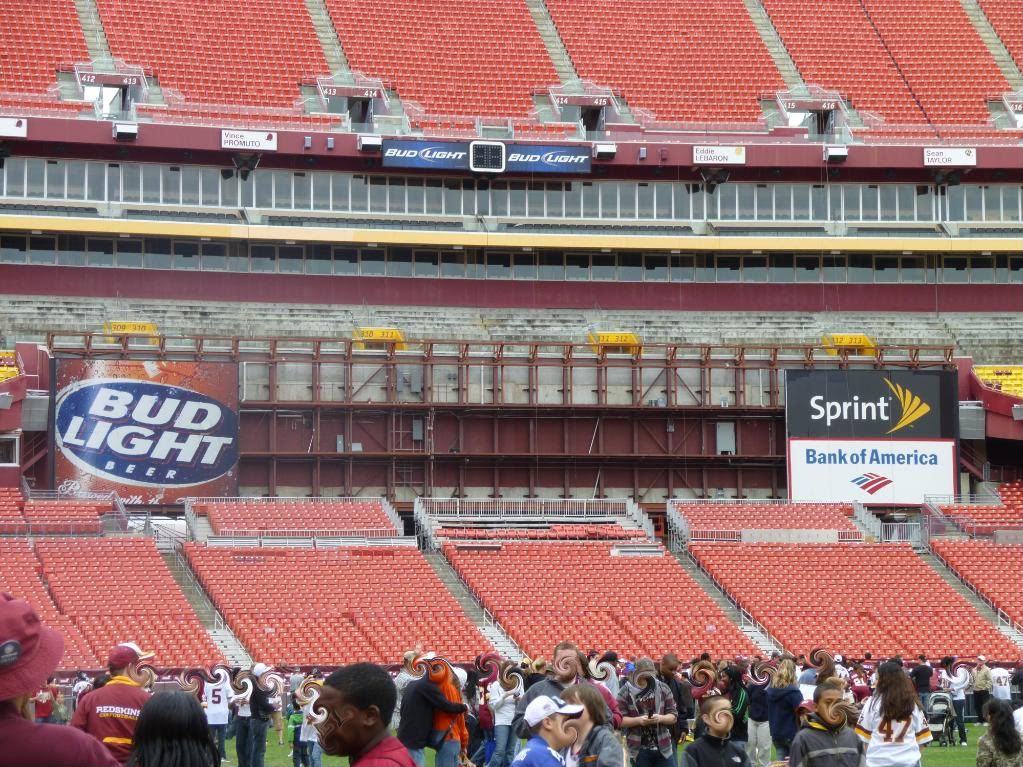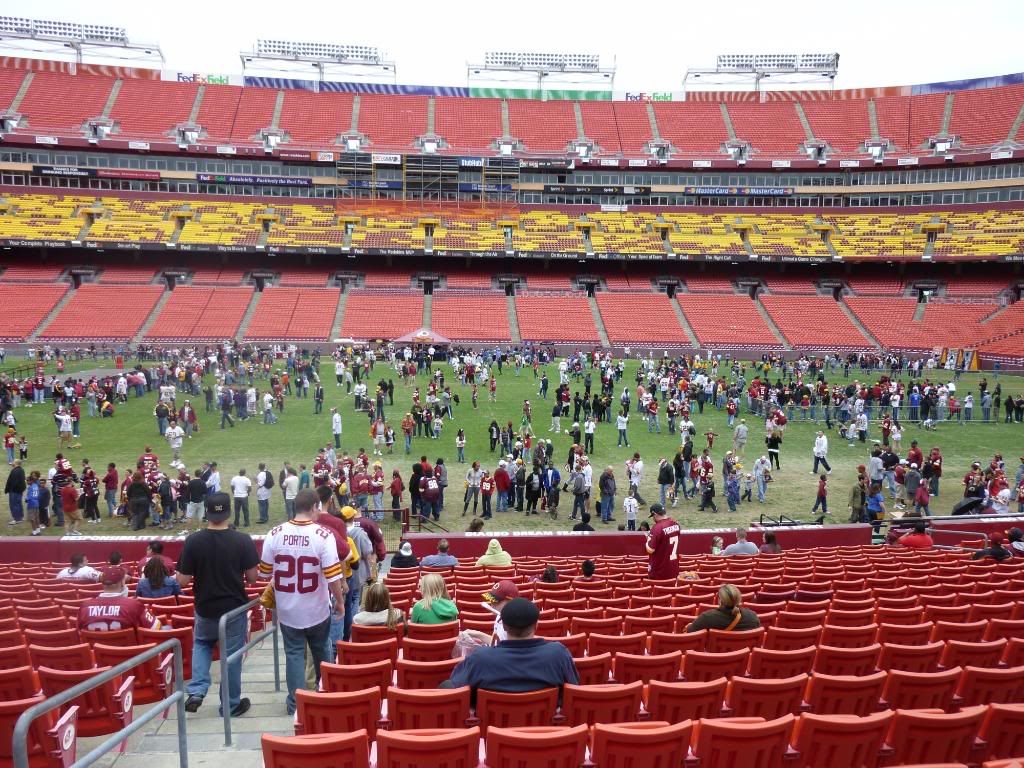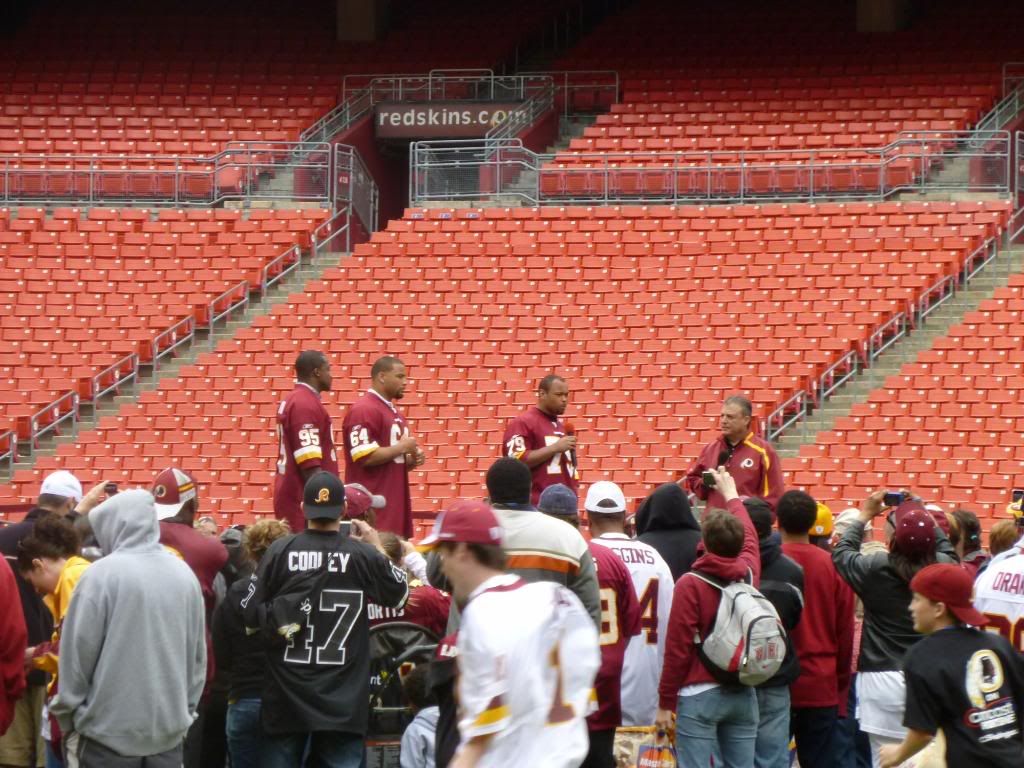 Ed. final note- no there's nothing wrong with the people in the photos. I just blurred out their faces.........