Jeeze....didn't I just do this?
Well there's more Redskins stuff to write about and this time they would be nearly as long as the last RN&Ns when I wrote that book about where I thought Haynesworth would go.
Buy your McNabb jerseys now before it's too late!!
For some reason I don't get as many emails as some of you out there receive from the Skins. But, I know the Mrs. and other bloggers like Dave-O at
Staying Medium
did get the email to get their McNabb jersey.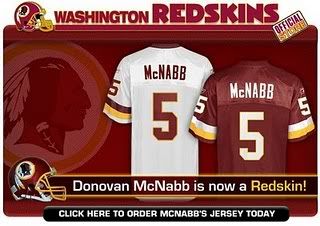 I think I'll pass for now. If I've learned anything about free agents and the Redskins is that they don't stay very long. Seriously, right now there is a third world country that is being clothed in Jason Taylor jerseys (
it looks like you're at FedEx there
). And I have a feeling that in a few months we will be seeing another place in Haynesworth jerseys. Here's the deal, I'll buy a McNabb jersey when the Redskins win the NFCE. When that happens I will gladly pick one up and show my happiness for McNabb being a Skin. Until then he'll just have to settle for me screaming
Hail to the Redskins
at the top of my lungs at FedEx each and everytime he throws a TD.
If you really want a McNabb jersey and don't want to spend $72 for one here's some suggestions to make your own McNabb jersey.
1. Take your current Colt Brennan jersey. Add duct tape to the name plate. Write "McNabb" with a Sharpie and
viola!
You have a new McNabb jersey. If you still have a Shuler jersey (you like abuse don't you?) you can do the same procedure.
2. You can do the same thing to your Todd Collins #15 jersey. Just add a strip of white or burgundy over the #1.
3. I guess you could spray paint over an Eagles jersey, but I wouldn't suggest it.
By the way.....you can now get your Cornelius Griffin, Fred Smoot, Ladell Betts and Antwaan Randle-El jerseys for the price of $9.99 over at the
Redskins store
. Ironically, you can still get Jason Taylor and Marcus Washington jerseys for $27.99. That makes no sense.
What is this a uniform/jersey post?
Not completely, but I thought I would mention this. Last week NFL Network played the Redskins first Super Bowl appearance (vs. Miami) and it gave me a whole game to watch a George Allen Redskins team play. I've never gotten to see any of these Redskin legends play in a real game, so it was fun to watch. What I thought looked pretty cool was the uniforms. I wonder if it would be possible for the Skins to go back to the Burgundy and Gold unis. for home games and then wear the White jerseys and Burgundy pants for away games.
(Home)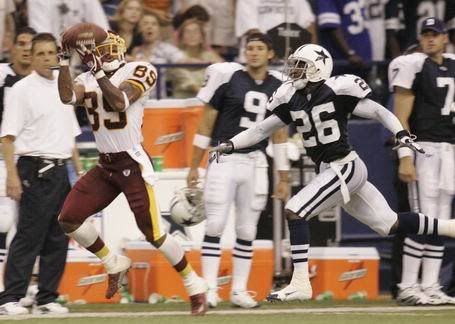 (Away or early in the season when it's still hot)
Just a thought. What do you think about that idea?
Skins sign another NT, what does it mean?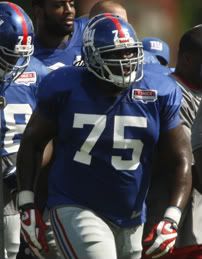 The Skins announced the signing of Anthony Bryant who was a 6th round pick in 2005. He's a journeyman player and more or less looks like at best he'll be a backup. Does it mean anything about the move to trade Albert Haynesworth? I don't think so. I just think the Skins are looking to add depth and/or competition to the roster.
So far, I haven't heard any more on the Haynesworth trade front.
Redskins sign Bryant to bulk up D-line
(Redskins.com)
NFL statistics
(NFL.com)
Carter in, Campbell/Haynesworth out (minicamp)
.
The word is that Jason Campbell and Albert Haynesworth will not be attending the voluntary mini-camp that starts Friday at Redskins park. However, Andre Carter who's been discussed as a trade possibility and hasn't been at the park (he's rehabbing a torn bicep) appears that he'll be at the mini-camp according to
The Post
.
Russell Okung interview.
Okung has had a few interviews with
The Post
and
NFL Draft Countdown
. Click the links to read more.
Vinny Cerrato joins ESPN Radio's draft coverage.
It didn't take long for Vinny to find another job. He'll
be working on ESPN Radio
during the draft providing valuable analysis. Just in case you've never seen Vinny on TV or heard him on radio you're in for a treat (watch the You Tube video below).
What is up with Doc Walker's hair? Nice to see a young Chris Samuels in this video, too bad this was the beginning of the end for the Redskins for about a decade.
and I'll leave this post with another famous Vinny moment, a clip from his movie Kindergarten Ninja:
I can't believe he wasn't nominated for an Oscar.