RT @flymattyfly: McNabb deserves a shot at a super bowl. In Philly, after all he's done. ... Agreed. He does - but it won't come in Philly.
This move is probably now the all time Redskins trade I can remember in my years as a Redskins fan. Forget Jay Schroeder for Jim Lachey or Champ Bailey for Clinton Portis (and the infamous 2nd round pick.....You fleeced us quite well Coach Shanahan!!!!!). Nope this is the one. I have to say that it was hard to hear McNabb was coming here after spending most of his career picking his game apart and hoping that he and the Eagles would lose. It was a bold move by both sides. For the Eagles to give up a pro bowl caliber QB who still has the skills to win in the NFL to a fellow NFCE rival for a 2nd rounder in 2010 and a 4th/3rd rounder (let's face it, that's what it pans out to be in the trade) in 2011 to start a backup with only 2 starts under his belt. For the Redskins it's a Superbowl or bust move. The Skins again forfeit the future (by giving two decent picks to a rival) to try and win now. It's an old and somewhat traditional move done by the Redskins coaches and brass. No, Dan Snyder didn't originate this.....he just likes to use it a great deal.
So the Redskins again made the mega-trade. They again made the big off-season move to take the headlines away from everything else. Jimmy Clausen (who?), Sam Bradford (Oh, that guy.), The Draft (who cares!), MLB's Opening Day (they still have only another 150+ games to play, whatever), The Capitals domination of the NHL (didn't Mark Brunell wear #8?). Heck, it probably even gave Tiger Woods about a 10 minute break from being an annoying headline that I'm sick of hearing and could care less about (what I would care about if I was a big golf fan, which I'm not really, is whether Tiger can put the tiny ball in the even tinier hole in as few strokes possible) in the sports/media/tabloid world. It is that big of a deal, especially when the Eagles trade McNabb to a fellow NFCE rival. So let's look at what Mcnabb bring to the table by coming to DC.
The Pros
- You know the stats. so we can all pretty much agree that McNabb is a franchise QB. I mean you pretty much have to be to survive in Philly this long. It's been at least a decade since the Redskins have had a "franchise QB" (Brad Johnson) on the team and one could argue that the last real franchise QB for the Redskins was a guy named Sonny Jurgensen. So automatically, whether you like Jason Campbell or not (I actually do), you get a major upgrade at the QB position. McNabb also has playoff experience which is a plus for a team that hasn't been in the playoffs since 2007 (and we were one and done that year). McNabb is 12-7 in career games against the Redskins and he has an excellent winning percentage at FedEx (.700 or 7-3 overall). He also has winning records against the Giants and Cowboys. Yes, I know that this is a team sport and the win/loss records don't reflect only on McNabb but those are nice stats nonetheless.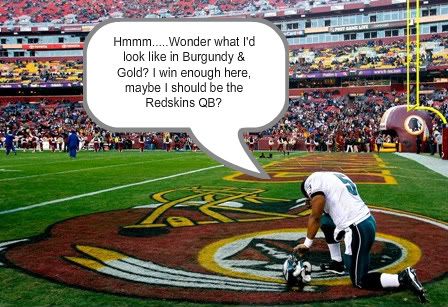 - We have a vocal leader. Jason Campbell appeared to be a "lead by example" kind of guy. I know some have given McNabb a "diva" vibe based on some of his comments over the years (like the comments he made about the Skins in 2008 when we swept the Eagles), but I think he will be able to take command of this offense and this team quickly. He will become the face of this franchise for the next few years......and seriously we haven't had that in a long time either.
-

McNabb coming here makes the Eagles weaker, at least for now.

I have no clue what Kevin Kolb will be as an NFL QB. But one has to think with his limited playing time, there are going to be some setbacks even if they are minor ones. Kolb hasn't had to be the guy in the clutch. He hasn't had the pressure games that McNabb has played in. He hasn't even started a game against any NFCE team.
-McNabb makes the running game better. Mike Shanahan is a run first coach. Don't let the names Elway, Plummer or Cutler fool you on his scheme. Only in one year has any Shanahan team thrown the ball more than run the ball. That should make most Redskins fans happy since we've always been a run first oriented franchise since I've been a fan (and even further back that that, George Allen's Skins were also run first.). By having a QB like McNabb under center, teams have to respect the pass and will not be able to put 8-9 players in the box. Thus, Portis/Johnson/Parker/Alridge/Player yet to be drafted will have opportunities to run the ball without every hole being filled by the opposing team. Also, I expect the Skins to bootleg a great deal which again will force teams to maintain their assignments, thus not everybody will be gunning for the running back.
-

McNabb makes the WR/TE corp. better.

Donovan Mcnabb has had some really good years with little to work with. He won with James Thrash and Todd Pinkston being his top WRs. So can you image what he can do with the Skins current corp? It will be interesting to see if Devin Thomas can become a legitimate #1 WR with McNabb under center. Moss will still be the big play guy, but I have to hope that some of the passes that Campbell missed McNabb could hit with Moss. Even Marko Mitchell should have an opportunity to be a play maker on this team.
The Cons
-Same as it Ever Was. Why is it that when the Redskins make trades or bring in a big free agent, I start to think of The Talking Head's Once in a Lifetime (especially around the 3:06 mark)?
"
Same as it Ever Was
" to the Redskins is almost as much of a catchphrase to the Redskins as "
It Is What It Is
" to the rest of the world. Seriously, forget what year this is and who is our current GM and think isn't this a typical Redskins move? Again, we bring in the older veteran with the premise of winning now. It's been the same move the Skins have done for the past three years and during other portions of Snyder's ownership. It always seems that the Skins are just one piece away from winning it all......and yet they aren't close. Granted, McNabb is a much better talent than any QB in this draft and maybe the better QB compared to all of them when it all is said and done (
like I've said before, this is a lousy QB draft class
). 2nd round picks are valuable and usually indicate a starting caliber player. I just hate when we trade picks away and then next year's picks as well. It would be nice to actually have a draft where we have all 7 picks (plus extras) for a change.....I like watching the draft, it would be nice to see the Skins actually participate in it. Again, teams have to built in the draft to keep your franchise strong, even if the Redskins win now, in a few years we'll be back to struggling because we didn't replenish the talent pool on the roster with young players.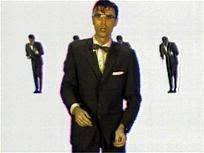 ("You may ask yourself.....What happened to all our draft picks? And you may tell yourself....My God, what have they done!?")
Now you may be asking yourself,
What Would Vinny Have Done
? I think there is no way Cerrato would have made this move. Really. I know the joke is that Vinny would have given up #4 and a boatload of picks for McNabb, but I don't think he would have made the move. I think he's sold on Clausen and I believe if Bradford wasn't there the Skins would have drafted Clausen.
(Clausen is from Notre Dame, he's a winner. Offensive Tackle. What's that? Heh,heh,heh,heh (Vinny laugh))
I can't speak for Vinny, but if he's on ESPN talking about how great Clausen is and defending him from the likes of Todd McShay then we know where he was heading with our #4 pick. Why do you think he and Snyder were going to ND games and scouting him? To address the O-line, Vinny would have drafted some kid in the 7th round to fill the gaping holes at both tackle positions. Problem solved. At least (
hopefully, we need two starting tackles!!!!!!
) by making the move for McNabb, the Skins will draft a OT at #4 and hopefully draft another one in the 4th round. I for one would be estatic
-Age and Injury.
McNabb is currently 33 years old. Will be 34 by the end of the season. My guess is that he has 3-5 years left max in his career. So it's a generally small window for the Redskins to go far with McNabb at the helm. Unless the Skins think Colt Brennan will be the guy in 2013, they currently have no future starter on the team. Campbell should be traded or released before training camp and Rex Grossman is a better backup than starter. Also, McNabb has a history of injuries. He hasn't played in more than 14 games in a season since 2005. That is a huge concern, especially based on the guys that are backing up McNabb. Nor does McNabb have the great mobility that he used to have. He needs a strong O-line to protect him, something the Redskins don't have right now. Although, I do believe that Shanahan will find ways to mask that limitation.
-Ground Balls and Choking.
Not going to pull any punches on this one. McNabb throws a great deal of one hops and ground balls in his game. It's a good thing in the fact that you'd rather have him throw a one hop incompletion than overthrow the ball for an INT. It's still a problem and one that just not going to change. It might even get worse as he gets older and his arm strength gets weaker. There are concerns that in the playoffs, McNabb chokes and the Eagles find ways to lose. Is it McNabb, or Andy Reid? Reid has also done somethings in the playoffs that make you scratch your head. Maybe the Eagles fans are just cursed.........
-
We still have no O-line
. We have no starting LT and RT as of right now (
sorry, Stephon Heyer
) and no real backup at the LT position. This is not good. Especially for an older QB that has an injury history.
Conclusion
(Welcome to DC Mr. McNabb, hopefully we both can see a Lombardi trophy here before you leave.)
It was a shocking, shocking move for the Redskins to bring Donovan McNabb here and I'm still going to have to get used to see him in Burgundy and Gold on game days. That said, the move makes sense as McNabb is a better fit in a WCO than Jason Campbell and this team desperately needs an offense. I don't like the fact that we're still not drafting our future talent here as much as we should. Nor do I like that we've already lost another pick in the 2011 draft. But if the Redskins can finally start drafting offensive linemen and fixing the teams biggest needs, then McNabb should have some success and hopefully will get the team back to winning.