The Lying Game.

Now is the time that you have to take every rumor and every comment from every media head, news outlet and team release with a serious grain of salt. The reason is simple, it's strategy. Teams want certain players, agents want their players to go at the highest spot in the draft and other teams want to mess up the strategy of their 31 fellow competitors. Every source has their agenda, be weary of these rumors and unknown "sources". Until an actual trade happens, don't believe it. You might think this has already started when free agency began, but it actually gets worse as we get to the day of the draft. I'm planning on watching the pre-draft shows on draft day and I expect some crazy rumors to come out of those shows. But I thought I would remind the IIWII readers of this before I get to Redskins News and Notes........trust me you'll thank me later.

Sam Bradford should go #1, Colt McCoy moving up draft boards.

Pro Days for

Sam Bradford

and

Colt McCoy

have come and went and while Pro Days are basically is more or less a choreographed pitch and catch with fellow teammates, it was important for both Bradford and McCoy to have good workouts to show that they can make all of the NFL throws expected from a QB.

More or less the final results are thus: Bradford should now be pretty much a lock at #1 for the Rams and McCoy should be a late 1st early second round prospect. Don't believe me? Well here's Mel Kiper's take:

Are the Raiders going after the wrong

Eagle

?

The word is that the Raiders are the team that seems the most interested in Donovan McNabb at the moment and I wonder......why? Sure, McNabb is a much better QB than what the Raiders currently have on their roster, but here's the problem I see with the move: McNabb doesn't fit the Raider's scheme one bit. McNabb relies on his accuracy and his mobility to hit short to intermediate range passes. He excels in a West Coast offensive scheme that picks apart a defense while getting 5-15 yards at a time, meanwhile he also has fast/quick pass catchers that can turn a short pass into a large play. Doesn't sound like a Raiders offense to me. If anything it sounds like the Raiders would be better off going after Michael Vick.

Before I continue, let me say that I'm not a fan of Vick's QB skills and this was long before the dog fighting convictions. Vick is entertaining to watch. Back when he was a Falcon he had quicksilver feet and could avoid most sacks while running all over the field. Problem was that Vick's arm was inaccurate and he lacked touch on the the ball. Remember how many thought Roddy White was a total bust because he couldn't catch the ball (

only Alge Crumpler could catch Vick's passes

)? That said, Vick fits what Al Davis' scheme needs. Vick has a cannon arm that no WR could out run. What does Al Davis want in his team? A team that can stretch the field vertically with fast WRs and QBs who can get the ball to them. The only problem would be getting Darrius Heyward-Bey to catch the ball and Vick to get the ball close enough to DHB to catch it. Still, since the Raiders make strange and unexpected draft moves maybe using a 3rd round pick on Vick wouldn't be such a bad move.

NFL players get a bad rap, so here's a better story for Easter.

We know about the ongoing stories of Ben Rothlisberger, Santonio Holmes and just recently Shaun Rogers, but people don't look at many of the good things that NFL players are doing in their communities. So, to leave NFLN&N with this being the Easter holiday and all, I leave you with a story about Ricky Williams and how he's providing

300 Easter dinners

to his community.

Redskins News and Notes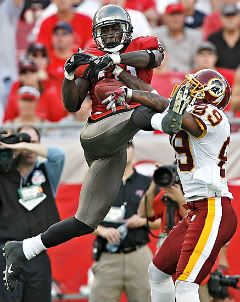 Skins sign Phillip

Buchanon

.

I think this was a great move by the Redskins. While Buchanon might not be considered an elite prospect like a Dunta Robinson, he has been a starter in the league and should push Carlos Rogers for the #2 corner spot. Also, it gives the Skins time to continue to develop Justin Tryon and Kevin Barnes without having to start them. The signing also fills a hole after the cutting of long time Redskin Fred Smoot.

Phillip Buchanon signs one year deal with Redskins (Redskins Insider) Redskins sign Buchanon

(Redskins.com)

New Redskins CB Phillip Buchanon Still Has Speed (Redskins Blog) (photo by Brian Cassella)






Skins sign "Fast" Willie Parker.
This is a bit of a surprise as I thought the Skins were done signing running backs close to/at 30 that may be past their prime. The general consensus is that this move is two fold. One reason is that it's just another guy to push Clinton Portis to work to be the back he was back in Shanahan's days in Denver. The other reason is that maybe the Skins are looking for a backup plan to either Johnson (
or Portis for that matter
) if they fail during camp. Frankly, neither Johnson or Parker are great pass blockers and while I think Parker is the best pass catcher of the three, Portis may be the better overall back. I think Shanahan likes collecting RBs (
in this case is perfectly fine based on their signing costs, they are easy cuts
) and I still think the Skins will probably draft a RB in this draft (
my guess is 4th or 5th round)
. Either way, I don't expect all three of these RBs (
Portis, Johnson and Parker
) to be on the opening day roster. SHD has watched Parker on a regular basis as a Ravens' fan so, he'll be providing a scouting report on Parker in the next couple of days.
Redskins sign Willie Parker, add experience and competition at RB
Willie Parker Career Stats
Haynesworth and Hall get paid big bonuses, won't cost the Redskins in future cap.
Albert Haynesworth was due a 21 million dollar option bonus on April 1st and DeAngelo Hall was also due a 15 million dollar option bonus at some point this season. Had everything stayed the same, the Redskins would have had huge cap numbers for both in future seasons. I think most of you out there would agree that in the next CBA the salary cap (
and the subsequent salary floor
) should return. While the NFL isn't perfect, the idea of parity in an age of free agency is ideal as the salary cap/floor keeps the rich teams (
*cough*Redskins*cough*
) from trying to buy every talented player but forces the cheaper teams (
*cough*Bengals*cough*
) to pony up enough dough to make their teams competitive. Anyway, the Skins were able to convert those bonuses from option bonuses to signing bonuses with the players having the ability to void the contract if they paid back part of the bonus. The net result is that these bonus payments count for this year, so when (
hopefully
) a cap returns in 2011, $36 million dollars are no longer part of the cap hit. J.I. Halsell explains it all in his blog
Inside the Cap
, which I've added to the Blog Roll on the site. It's a good read and worth checking out for any Skins fan who has interest it what the Skins are doing with the salary cap.
Should the Redskins trade up for Sam Bradford?
It's been a topic of conversation in many places on TV, on the radio and even over at
BGO
. But some have wondered if the Redskins should go after Sam Bradford via a trade with the Rams. While I can understand why some fans would be interested in the move (
poor QB draft class, Skins could use a "franchise QB", Jason Campbell frustration
) I for one think it would be a terrible move that would damage Mike Shanahan's tenure here. Let's look at the last time a team traded with the #1 and #4 picks. It was SD and NY (
Giants
) for Eli Manning and Phillip Rivers. Now one would assume that for the Skins to move up. they would have to probably give up the 2011 1st round pick, their 2010 1st (#4), probably something else in the 2010 draft (my guess would be the 4th and 5th round picks) and probably another pick in 2011. That's a great chunk of picks to get a QB that while talented has some serious concerns about that shoulder.
I know, I know you're saying that the Redskins need to take the risk......it's worth it for a franchise QB, just see what the Jets did last year with Mark Sanchez. But here's the question I pose to you: How were the Jets and Giants O-lines when they made these moves? Much better than the Redskins. The Jets for example had a line made up of mostly 1st rounders that they either drafted or brought in as free agents. While the Giants O-line wasn't nearly that good, it's still better than what the Redskins currently have. By giving up all of those picks, you pretty much remove the Skins from bringing in the young talent to protect Bradford from being killed.I mean there were games in both 2008 and 2009 where Jason Campbell didn't even have a second before he was hit. It was brutal. Do we really need to see that with a guy drafted #1 overall and getting a huge contract? Just look at the Bears who made the trade for Jay Cutler. Now they don't have any draft picks to get that left tackle they need to protect "the mope" and the Bears are worse off than they were before they made the move with Denver.
(Jay Cutler misses Ryan Clady in Chicago, it makes him frown)
So if Sam Bradford somehow fell to the Skins at #4 (not likely, but did anybody think Orakpo would fall to #13?) I say if you think he's the real deal take him. But to trade so much for a untested QB who has shoulder concerns, just is too risky for me. Of course, if Shanahan feels this is the right move to make then I'll give him the benefit of doubt. So far the Redskins have a plan and know what they are doing, something we haven't seen in ten or more years with this franchise.
Speaking of draft picks, who's coming to Ashburn?
Eric Berry the top ranked safety in the draft has already paid a visit. He talks about watching Sean Taylor play and how he would fit with the Skins over at the Redskins Insider blog
here
and
here
. Right now
Jimmy Clausen is in Ashburn
this weekend visiting the team. Of course, the Skins will be there for his Pro Day on April 9th and the Skins will also conduct a private workout with him on April 15th.
Colt McCoy
is scheduled to meet the Skins on April 5th, with Sam Bradford coming in on April 6th. Russell Okung is supposed to meet with the Skins on April 7th and
Jahvid Best
is supposed to meet with the Skins at some time as well. I thought I also have heard somewhere that Terrence Cody is scheduled to meet the Redskins as well at some point. More to come........
Preseason schedule released.
You get excited for this for about 5 seconds and then realize it's preseason and go "so what?". The Redskins and the NFL released the preseason schedule and it's rather dull.

The Bills, eh. The Ravens will always be entertaining......SHD will wear his colors at FedEx. I wish the Jets game would be at FedEx, but it'd be nice to see the new Giants/Jets stadium. Don't like the fact the Skins have to travel cross country for a game where the starters rarely play 1 series (Game 4 vs. Arizona).
Redskins interested in trading for McNabb?
See, didn't I tell you you'd be thankful if you took my advice back in the beginning of the post.
Jay Glazer
is pretty reliable. It's usually either him or Adam Schefter that breaks the big stories but this one I just don't believe. There is no way that the Eagles would trade McNabb to the Redskins baring a major trade by the Skins involving a lot of picks and some other players. I just don't see that happening. I also can't see the Skins marketing Donovan McNabb to the fans. That would throw away a great deal of the faith that the fan have in the new regime. It just doesn't make much sense to me except that McNabb might play well in a Mike Shanahan system.
Quick Thoughts:
-I think at this point that the Skins will draft a QB, RB, 2 O-linemen and 1 defensive position (my guess either DE/NT/LB)
- There is a rumor put out by both ESPN and PFT that the 2010 schedule will be released April 13th. Don't know if that's true but it should be out sooner than later and probably the week before the draft.
-I'm still working on my newest version of my mock draft, I have no clue how some sites have 7 rounds done.
-Since 2000 the Skins have only drafted 9 offensive linemen 1 1st rounder (Chris Samuels), 2 3rd rounders (Derrick Dockery, Chad Rinehart), 1 4th rounder (Michael Moore), 1 5th rounder (Mark Wilson), 2 6th rounders (Jim Malinaro, Reggie Coleman) and 2 7th rounders (Jeff Grau, Kili Lefotu)
- Since 2000 the Skins have drafted 7 QBs 2 1st rounders (Patrick Ramsey, Jason Campbell), 1 4th rounder (Sage Rosenfels), 3 6th rounders (Todd Husak, Jordan Palmer, Colt Brennan) and 1 7th rounder (Gibran Hamdan).