Hey, Hey, Hey I'm Getting Traded???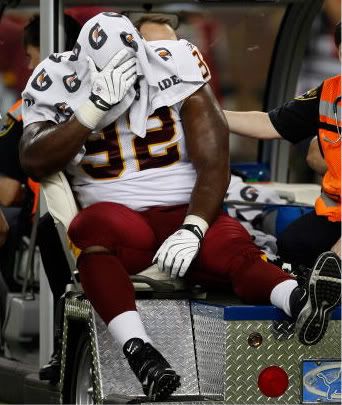 (Don't worry folks, he'll be back in a few plays.....All is well.)

(Ed. Note: This is me looking at possible trade options, there is little to no actual proof that any of the below teams are interested or are making trades.....this is me looking at scenarios, not being a legitimate source).


The rumors started swirling around the Donovan McNabb trade that the Skins offered Albert Haynesworth to the Eagles in order to acquire McNabb. The Eagles said no and the Skins eventually traded the #37 pick and a conditional 4th (
possibly 3rd
) rounder in 2011. Now it seems that Haynesworth is available for the right price. The trick is reading exactly what Mike Shanahan says in this
Fanhouse
article:
"There is nothing to clarify. It is just speculation. He's part of the organization. I am just looking for him to come in and work and be like everyone else. No, we're not going to trade him at all, unless someone gives us something we would have to consider -- that's pretty standard with any player on your roster. He's a pretty smart guy. He's really talented. I think I can get that out of him.''
-Mike Shanahan, Shanahan Believes Redskins Made Great Grab in McNabb By: Thomas George
This basically says he's available for the right price. Now, some think he was a total bust last year and would love to see him gone based on his "injuries" on the field and that he was a disruption in the locker room. While I agree that his
stats
were below Albert Haynesworth's norm. However, name the last time that two players had double digit sacks on the team? Also, when DeAngelo Hall is getting jumped by Falcons (
with exception to maybe Justin Tryon
) it's Haynesworth that breaks it up by shoving a Falcon across the stadium,
Haynesworth was noticeably out of shape last year. So much so that even
fellow players
noticed that he wasn't in game shape. He also faced disciplinary action and was
sent home from practice
from the team last year. But the Redskins still owed Haynesworth a $21 million dollar bonus.
When Mike Shanahan came in he wanted to move the Redskins to a 3-4 defense with the hopes of generating more turnovers and was hoping that Haynesworth would be the anchor of that scheme as the team's nose tackle. Of course, Big Al doesn't want to be the nose (although he's said he'll do whatever the coaches want him to do).But the biggest problem is that Haynesworth is
skipping out on all voluntary activity
. To Shanahan, this is completely unacceptable.
When Mike Shanahan and Bruce Allen joined the Redskins, they knew that there would have to be change in not just the coaches, scheme and players on the roster but also in the culture and philosophy of this franchise that has been poor for a long time. Shanahan is running the ship now, not Dan Snyder and he wants to change the Redskins from being ME oriented to TEAM oriented. That means problems are removed and players are expected to step up and participate with the team. Shanahan believes that through interaction in off season workouts that it build team chemistry and that will benefit the team when the season starts months from now. It seems that every player is on board, except Haynesworth and Shanahan is going to do what it takes to fix the problem.....even if it includes moving a player that just got $21 million from the team.
So the big questions (and the most fun part of this post) is who is interested and what would they give up for him. Let's take a look and do some speculation.
Not every team would want Haynesworth, but you have to think that there are a few 4-3 base teams that need a DT would like a player like Haynesworth (especially when he's motivated). I'm going to pick out a few teams, show their draft picks (
through the 4th round
) and see if it would be a decent fit. Remember, the Skins can't be paid any monies (
ie. repayment of the $21 million bonus
) by the trading team, however the Skins could be compensated by a higher or more picks. Also, Haynesworth current deal is very affordable (
approx. 3 years/$16 million
). I would assume that the going price would be a high second round pick with possibly a conditional pick in 2011. There is no particular rank in preference, I just ranked these teams by draft order.
1.
St. Louis Rams
(1, 33, 65, 99)
Analysis
: The Rams could still use an upgrade at the D-line despite spending valuable draft picks on Adam Carriker and Chris Long. Haynesworth is a proven entity. There is no way that the Rams will give #1 overall for Haynesworth and with the move for McNabb, the Skins don't need to try and move up for Sam Bradford. #33 is a possibility, but I doubt the Rams would also want to give up that pick when they've spent so much already. My guess if it were to happen would be the #65 pick and Adam Carriker (more fit to be a 3-4 DE) and a conditional 2011 pick. Either way I don't see it happening. The Skins really want a 2nd rounder now and the Rams need to build their team with young players; not a disruptive veteran.
2. Detroit Lions (2, 34, 66, 100)
Analysis:
Jim Schwartz knows Albert Haynesworth well and might take and affordable Haynesworth and a OT at #2 than going after top DT prospects Suh and McCoy. Plus Haynesworth would be re-teamed with former Titan Kyle Vanden Bosch so they would re-form a strong 1-2 punch. However, would the Lions really pass up Suh for an aging Haynesworth just to get a tackle? Also, if the Redskins really want Russell Okung at #4, the Skins would have to either switch spots with Detroit or have Detroit promise that they wouldn't take Okung at #2 which could be a problem. The asking price would probably #34 and possibly a conditional pick in 2011. This move is a possibility, but it really depends on what the Lions think of Suh and what the Redskins think of Okung. Not sure that it would happen.
3. Tampa Bay Buccaneers (3, 35, 42, 67, 101)
Analysis:
Maybe the Bucs don't have the opportunity to get the player they want. Maybe they really want to go another way, or maybe they would like the DT at #3 and Haynesworth. Either way the Bucs have two very high 2nd round picks that the Skins would love to have. This pick does make some sense since the Bucs owners seem to have put a limit on their spending. Getting a player like Haynesworth and then trying to trade down (say they switch spots with the Redskins and then trade back) would save them some money and help the team with more picks. Not bad for say #35 or #42 and #100.
4. Oakland Raiders (8, 39, 69, 106)
Analysis:
This could be the best place out of all contenders for Albert Haynesworth. The Raiders like bad guys, with phenomenal talent (who rarely live up to their potentials BTW) and Haynesworth is affordable. Here's my 1st mega trade of this post: Albert Haynesworth and Jason Campbell for #39 and #69. For the Raiders, the may have two automatic starters. Haynesworth obviously starts and Campbell competes with JaMarcus Russell and Bruce Gradkowski for the starting job. This move wouldn't surprise me at all.....although it's hard to tell what the Raiders will do.
5. Tennessee Titans* (16, 77, 111 )
Analysis:
It appears that Titan fans would love to see Albert Haynesworth back in Tennessee, but it may be harder to make this trade than one would suspect. The Titans have a mid-third round pick but no second round pick. It appears that the Titans
don't want to give up their 1st round pick
for Haynesworth but lack the desired picks (2nd rounder) to get the now affordable DT. Here's my solution. The Titans have needs at DT, CB and DE. The Skins have two players that might be worth trading to fit those needs: Carlos Rogers and Andre Carter. I seriously doubt Rogers will be a Redskin in 2011, so they might as well get value for him. Rogers is also a decent cover corner so the Titans will get another solid player in the deal. Carter also is an option especially after coming off the 11 sack season maybe a 1st and another pick for those two. If the deal is made, the Skins could then trade back again and collect more picks. Hopefully enough to draft another DT and possibly a corner. Some Titan fans have suggested trading the #77 pick and 2nd and 4th round picks in 2011 for Haynesworth. That seems like a fair trade, but I would want another late 2010 pick in the deal or make that 4th in 2011 a conditional pick that would turn into a 3rd rounder based on playing time.
* Titans also have a pick at #97 but it is a compensatory pick and thus not available for trade.
I also wouldn't count out the Panthers, Saints, Ravens and Texans in the mix either......either way I expect Haynesworth to be traded either before the draft or before the start of the 2nd round.
Where's Jason Campbell Headed?
(JC, I wish you the best. Sorry it didn't work out in DC. You are nothing but class.)
Right now, it's hard to tell. The Post is reporting that there has been
little movement
in any team interested to trade for him. I only can think of a few teams that could use him at this point. The Bills are one option. Trent Edwards and Ryan Fitzpatrick vs. Jason Campbell should mean that Campbell would be the starter in week 1. But, Jimmy Clausen is out there and the Bills have shown interest in Tim Tebow. Carolina is an option, but some really like Matt Moore. I still think Oakland would be the best fit for Jason Campbell. He fits the scheme. What do the Raiders want to do? Stretch the field vertically. Campbell has the arm to do that and the work ethic to make Raider Nation's heads spin after dealing with JaMarcus Russell.
I still think Jason Campbell has a career in the NFL and I'm pretty sold that he will have one year of greatness like Mark Rypien or Doug Williams did with the Skins (maybe not Super Bowl great but great nonetheless). Matter of fact, when you really think about Jason Campbell he is a Joe Gibbs QB. Not elite, maybe not the greatest QB, but if you put enough talent around him.....I think he can win.
At this point, I really hope we can get a 4th round pick for him.
We actually have a punt returner on the team?
It looks like the Skins didn't just sign Phillip Buchanon to play nickle corner. It looks like he might also be the team's
main punt return specialist
this year as well. I expect to see either Moss or Hall out there every once in awhile but you don't want those guys to get hurt on a special teams play.
Looking forward to the Draft Day Party at FedEx.
I have said in the past that I don't like the 2010 draft format but that opinion could change. I still plan on having a draft day party with friends and family for the 1st round. It just eliminates the all day BBQ and drinking (
in moderation.....yep.
) throughout the day. But, the good news is that I will be able to go to the Redskins draft day event (taking place on day 3 of the draft). It looks like it will be fun. And
Comcast
has announced some of the players who will be there. Of course, the highlight to me is that the man, the myth, the legend Dexter Manley will be there. So if you see a big guy in a Manley jersey there.....it could be yours truly. Won't you be lucky?
More on the Lite-Brite and now you can own it.
Matt Terl continues the story of the dismantling of the old jumbotron
here
and
here
. This is why the Redskins needed a blogger for the team. That comment comes off as sarcastic and it's not. Matt Terl does excellent work (I wouldn't link his stuff if I didn't like his work) and it's really cool to see the "behind the scenes" stuff that goes on with the Skins. To a diehard like me, I find it interesting. Speaking of interesting.....the Skins are selling the Lite-Brite cells at the Draft Day Party for $5. It goes to charity and you get a part of Redskins history for cheap. Not a bad deal.
R.I.P. Bubba9497
-
The Redskins internet community lost a famous name a face last month when Bubba9497 passed at a very young age. I chatted with Bubba via ES on occasion since 2004 (when I joined ES) and Bubba was an interesting poster. He had a great wit, posted some great stories (
he was one of the site's original newshounds
) and just seemed to be a nice guy all around. He never got seriously caught up in flame wars over at ES and never really got involved in the stupid Ramsey vs. Brunell battles or Jason Campbell vs. Brunell, Todd Collins or Colt Brennan wars. You will be missed......
ES Memorial Thread
BGO Memorial Thread
Redskins.com
Skins on the field Friday?
That's right, the Skins will hold their first mini-camp this Friday, Saturday and Sunday. It's closed, but I'm sure somebody will have updates of the goings on. Plus, McNabb in Burgundy and Gold for the first time.
Schedule to be released this week?
Rumor has it that the schedule will be released sometime this week. I'm predicting Wednesday.
Mike Mayock
says the Skins should consider Trent Williams at #4 based on his athleticism and his ability to play both tackle positions. I don't agree with him but it does give the Skins another option if the Lions went after Okung at #2.
Only 10 days away to the draft.........