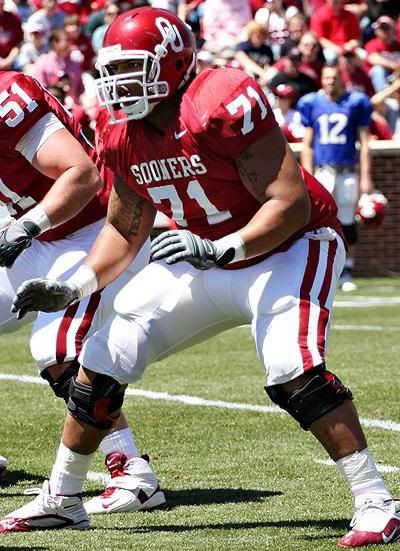 Cleaning up after my draft day party. I have a few things to say about the draft overall and I'll cover that later today.
But here's what you really need to know:
1. The Skins have completed rounds two and three for this years draft selecting Donovan McNabb and Jeremy Jarmon as their 2nd and 3rd round picks. Barring some trade, you might as well skip day two of the draft if you only care about what the Redskins are doing.
2. Jason Campbell, Rocky McIntosh and Albert Haynesworth are all still Redskins. Mike Shanahan has said that they aren't interested in trading Haynesworth (
via Adam Schefter
) and if this is the case, then you won't really care about day two since there are no more picks for the Skins to play with. If the Skins trade either McIntosh or Campbell, don't expect anything higher than 4th round picks for them.
3. The Skins have a new LT in Trent Williams. It wasn't my pick, but the pick makes sense. I liked Okung more as a pass blocker, but I fully understand why the Skins took Williams. He does fit Mike Shanahan's scheme perfectly. This draft is a win for us, the fans no matter whether it was Okung or Trent Williams. Many of us have been begging for a offensive lineman to be drafted for years now and with exception to Chad Rinhart in 2008 (
3rd round
) it's all been ignored by the FO. Mike Shanahan knows what's needed to win and frankly I trust his judgement on how to build a winning football team in this era more than Daniel Snyder, Vinny Cerrato, Joe Gibbs (
now, not the Joe Gibbs of the 1980's and early 90's
) and any other big named coach that has walked through the doors of Ashburn in the last 10 years or so.
Others have said it, but I'll agree that it's clear that the best move the Skins made this off-season was to bring in Mike Shanahan (
and don't forget Bruce Allen at the end of the 2009 season
). You don't know how good it feels to have competent professional football people running the show. It's still early and I still have skeptical concerns, but I think this Redskin team in 2010 will be much better than it's 2009 counterpart. And I believe that this team will eventually find a way to be a serious contender in the NFCE. Maybe not in 2010, but 2011 and 2012 (
barring a strike/lock out
) people will have to keep an eye on the Skins.
Sorry I couldn't do another Meaningless Mock for the first round. I got really behind in gearing up for our draft day party. The party was a success and we all had a great time and ate way too much food. More analysis and opinion coming on the Skins and the rest of the NFL and the draft.
Stay Tuned........