If you're a regular reader of IIWII have you noticed a slight change on the site? It's easy to miss and I wouldn't blame you if you didn't notice it.
Figure it out yet?
Okay, I'll show you.........
This use to be the picture of FedEx that I had on the site for the last couple of months:
(picture from Redskins.com)
and now the new picture: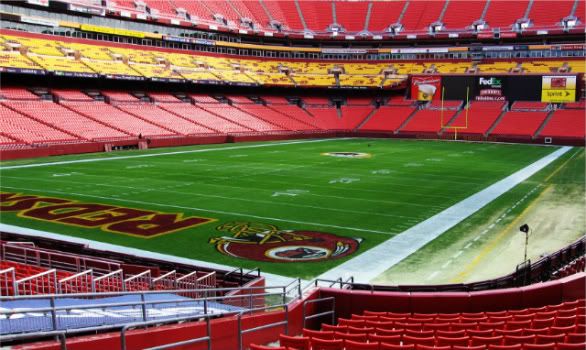 If you haven't guessed it yet, I've got new seats for the season as I was moved down from my old section (403) to the lower bowl (108). Two Saturdays ago I went out to get the mail and received a letter from the Redskins saying that I've been upgraded to my new seats in section 108. It seems like every couple of years the Redskins tweak their ticket office policies and how season ticket holders are moved around. This year, they asked ticket holders if they wanted to stay in their current seats or participate in the automatic upgrade program. If you chose to participate, then you had the option of staying in the same price range or be willing to be moved to a higher price range. You also had the option of whether you wanted to split your tickets (
ie. keep your seats together or allow them to be split up
).
I was told this was valid for all season ticket holders as long as they paid on time. Although from what I've read on
ExtremeSkins
, it seems that the policy was extended to those who missed the deadline to pay. I guess after the
debate I had
about renewing my tickets, it paid off to renew them. The only thing I'll probably have to get used to is the sightlines. As you can tell, I'm on the corner of the field instead of the about the 15 yard line when I was in 403 so there will be an adjustment period. But many say that any seat in the lower bowl is a good seat, so I'm sure I won't have any problems. I'll take some pictures for the blog so you'll get to have some better pictures during the game recaps this year.
During all of this it made me wonder about the waiting list and the myths that many think still exist when it comes to the Redskins and game day tickets. RFK was still around when I was a kid and the Skins were an actual contender during those years. It was also during those years that RFK was always packed and you had to have some really good connections to get a ticket to the game. Back in those days it was rumored that you would have to wait 20-30 years for your name to come off the waiting list and some parents started to put their kids on the waiting list with hopes that tickets would come up for them when they hit their 20's.
Fast forward to today. FedEx field holds about 35,000 more fans, the Redskins haven't been a really good team since 1999 (
yes, we made the playoffs in 2005 and 2007 but the Skins were Wild Cards and never really came close to winning the NFCE
) and they ended the past season at 4-12. It has become much easier to not only get tickets to one game but season tickets as well.
It's not just me that got moved down, there have been a great number of season ticket holders who were moved down from the upper bowl to the lower bowl in the last two seasons (
matter of fact it was this reason that ticked me off a bit in the 2009 offseason as I knew that many people were getting moved to the lower bowl and yet I wasn't even moved down a row or two
). It makes you wonder what's the current turnover rate of tickets (
ie. how many STHers fail to renew their tickets the next year
) because in previous years it seemed rather small.
It also seems interesting on how the estimates of getting tickets or being upgraded have been way off over the years. Usually you would think you would have to wait longer for season tickets than what's been estimated. With the Redskins, to my surprise, it has been the complete opposite. Remember when I said that the wait list was 20-30 years long? Well, in 1999 I decided to put myself on the wait list. At the time I couldn't afford the tickets and was in college. I was told that the wait was 10 years, which was fine for me since by then I should be able to afford season tickets. During that span I got offers from the Skins for single games and went to most of the ones I could attend. To my surprise, my name came up in 2004 (
about 5 years earlier than I had initially heard
) and luckily I had finished college by then and could afford the tickets.
My first year was in the nosebleeds and while I was happy just to have tickets, the trek to those seats were a nightmare and I was wondering how long it would take before I got moved down. I was told by many it would be about 3-5 years. In the end, it would be one year thanks to a thread on ExtremeSkins that basically said "if you want an upgrade call the ticket office now". Now I figured after that move, I would be in the upper bowl for a long time coming. The Redskins had started a "Touchdown Club" which for extra you'd be able to be in the lower bowl and have pre-game food and attend performances by some bands and the cheerleaders. Also, the Skins offered those who signed club ticket contracts the ability to go to the lower bowl when their club contract ended. I had no idea if/when I would ever join the lower bowl at FedEx.
A friend of mine just came off the season ticket wait list this year and told me the ticket office told him it would be at least ten years before he'd get moved down to the lower bowl. I did it in 6 seasons; only five if you count from the last time I got an upgrade. It makes you wonder if I've been lucky or are the Redskins facing a challenge in the future to fill seats.
The waiting list is supposed to be 150,000 - 200,000 large. But I wonder if that's really the case. I've talked to some people and read some comments on ES and DC Sports Bog that would make me think otherwise. With this amount of turnover and with a bad economy one has to wonder if there will be some empty seats at the top of FedEx......or even worse opposing team fans.
So the good news is that it's not impossible to get season tickets or to even move to the better locations of the stadium. It also appears that the ticket office is going the right direction in giving the fans the upgrades that they want. I just hope I've been lucky enough to have gotten these tickets at a point in Redskins history where this team is about to go back to greatness and not just be the mediocre fanchise of the last deacde.