Three simple words:
I Don't Care!!!!!!!
and
Can we get back to football?
I used to be a big fan of Arrington, but he soured on me pretty quickly during the 2005 season. After he wore the jersey below, that was pretty much it for me.
(I'm on the radio five days a week in DC with Chad Dukes)
As for CP. I'm still a fan, but the shtick is getting old. I enjoyed when he did the characters to not only take the heat off the team when they struggled, but to bring the team together (and who can forget Chris Cooley as "Johnny WhiteGuy" in CP's posse of characters). However, the regular issues constantly aired in public and the constant "haters" gets tiresome. Maybe for CP the "me against the world" thing motivates him (it has helped me before in the game called life) but I don't need to hear about it every month or so and I don't need it to be the topic of discussion when I'm trying to figure our what Shanahan/Allen are going to do next with this team.
Here's the facts:
- The Redskins have been known as a "me first" team in the last decade or so. Both Arrington and Portis have been prominent members of those teams. It's also a pretty fair statement that most of those teams were lousy with losing records (exceptions 2005 for both Arrington and Portis and 2007 for Portis).
-Mike Shanahan is trying to build a "team first" franchise and stuff like this is only a distraction to him. That does not bode well for Portis.
-Interesting fact: I own/have owned 2 Arrington jerseys and 2 Portis jerseys over my lifetime.
I do respect Arrington taking the "high road" on this, but here's my suggestion so we don't have to put up with this throughout the entire off-season:
These guys should have a race, pillow fight, boxing match or goofy Olympic style competition and do it for charity. OchoCinco could be a guest ref. or something. Problem solved. Issue solved.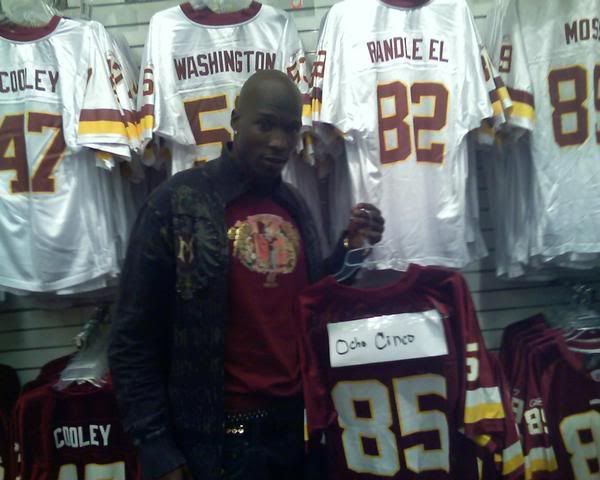 (Chad OchoCinco: Hero of the day)
I won't be writing about this topic anymore, frankly it sounds like the premise of a bad network (or TLC) reality series minus Kate Gosselin.