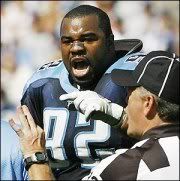 Yesterday, Floppy decided to make a statement on whether or not he was planning on attending training camp. Here are said comments:
" Despite my current differences with the Redskins, I have always planned to attend training camp and honor my contract. As I have previously said, I am continuing to prepare for the season individually and will report on time, in shape and ready to play football. Any issues I have with the club I will discuss privately and therefore do not plan to make any further public comments about this matter."
This is really no surprise to anybody that has been paying attention to his contract and that the Skins would love to go after some of that signing bonus they have already given him. The Skins have already fined Haynesworth the maximum (
$10,000
) for skipping out on the mandatory two day mini-camp. They can't go after the big money unless he fails to show up to training camp. Haynesworth is a smart guy and knows this (
both he and his agent knows this
), so of course he'll be at training camp.
This has nothing to do with honoring a contract, because Haynesworth hasn't honored his contract. It's one thing to skip voluntary workouts......because technically, they're voluntary (
although both the players and fans know better
). It's another to skip out on a mandatory camp that your coach actually cut from three days to two. Then, to whine about not playing in the scheme you like and demanding a trade after being paid 21 million dollars only a few months ago. Boo Hoo, Albert. Try standing on your feet for 13 hours a day with no breaks, no time to take a lunch (
other than to stuff a sandwhich down your throat while you're working
) and hardly any time to use the bathroom. That was the first job that I worked when I got out of school and I was under contract as well. You think I liked doing that? I, like you, signed on to do one thing and got stuck doing something that I wasn't expecting/didn't want to do. But unlike you, I wasn't getting millions of dollars and also unlike you I showed up every day I was scheduled to be there and did my job.
I've never seen a player get jumped on by so many other players. Most of his teammates, Redskins alumni (
including Art Monk
) and other well known players like Ray Lewis and Kevin Mawae. Not even T.O. had so many people speak out against him. Many of these players never have and probably never will get paid the ridiculous amount of money that Floppy is getting. There's a new CBA coming and the players know that the actions of Haynesworth could lead to future contract issues. Owners will want provisions to protect them from stuff like this (
like being able to get back big signing bonuses for failing to attend mini-camps
). Or to just convert voluntary workouts/OTAs/mini-camps to mandatory sessions, thus again making life harder for every player in the league.
Plus, if there's any holdout or strike the NFLPA will be looking to gain an edge with fan support. How can they get that support when players like Haynesworth make over $32 million in less than a full season and yet fail to show and help the team that just paid all of that money? Name a person in a regular, non-sports profession that can be cut a check from his employer and then just not show up? Most fans can't relate to Albert's situation, but they can understand where the Redskins are coming from. It's that disconnect with the players that could lead to the fans siding with the owners in this labor dispute.
That is something the players do not want to see.
Actions speak louder than words and for Haynesworth his actions in the next few months will speak volumes on his true intentions. If Haynesworth comes to camp in shape and learns to play DE (
and occasionally NT. Let's face it Haynesworth really doesn't fit the classic NT profile and would be better suited playing DE in this scheme anyway with the occasional switch to NT to cause problems up the middle on a few passing downs
) much of this can be forgotten. If he comes to camp in the same shape he was last season and continues to flop around like a fish out of water, he will continue to get the ire of both his fellow players and the fans.