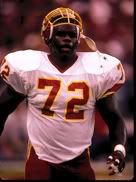 (The Man, The Myth, The Legend-- Dexter Manley; No clue where I got this picture from)
That's right. Dexter will be at FedEx on Sunday and according to Comcast he'll will be an honorary captain. That pretty much made my decision to don the Burgundy #72 jersey (
it was either that or my CP #26
) for Sunday. Plus, it gives support to the Redskins current #72 Trent Williams. Got to give some love to the rookie who has looked pretty good during the pre-season and has a tough challenge ahead of him in DeMarcus Ware.
Dexter just participated in ESPN 980's
Lunch with a Legend
series and if you really want to get fired up you probably want to
check it out:
I actually chatted with (
I believe it was him
) Dexter (
via Twitter
) the other day. He's got a new show coming out called
Dexter's Rush Hour
.
DC Sports Bog
has a good article on the show that's going to be debuting sometime soon on the web (
and possibly syndicated on Comcast?
).
I said to Dexter something like "It's not a real Dallas episode if you don't say
I Hate Dallas
at least once".
and he pretty much told me: (
paraphrase
) "you must be talking with my producers, they've said the same thing".
Anyway, you can head over and check out the
Dexter's Rush Hour
website (
currently nothing on the site
). I'm supposed to be getting some more info. from Dexter's people about the premier date/time etc......but haven't heard back from them yet.
Here's another memorable Dexter moment from the 1982 season as they faced the Cowboys in the playoffs.