(Hey Look, Times Square!)
Before I start I wanted to mention how polite and helpful everybody in New York was to us. I think the people of New York on occasion has a bad reputation for being rude and just wanted to say that everybody at the Con and most of the people that we dealt with on the street, restaurants etc. were just great. The only glitch I had at NYCC was with the Bruce Campbell panel at the end of day three (
more on that later
). For the most part, I will give breakdowns of notable stuff we saw throughout the day. I didn't get to see everything and I wish I had more time to take all of the pictures I wanted to take. That said here you go-- enjoy the pictures.
(Day 1 at the Jacob Javits convention center)
(I took this pic. a second too late, the previous picture said "Welcome to the 2010 New York Comic Con and Anime festival".)
(An ad. for an Avenger's cartoon across the street)
(The Walking Dead series is a major highlight of the 2010 convention)
(Gaming is also a major player at the Con. Marvel vs. Capcom 3 being one of the main attractions this year.)
Day one starts on Friday afternoon for the general public, but yours truly was able to score some press passes from some friends, so we had an opportunity to get in there early. It's nice to be at the Con during the "professionals only" portion of the event because it's quiet, you can talk to people working in the booths and get a general feel of where everything is taking place and where you need to go.
(Walking by the Intel area)
(Checking out some of the independent booths over in Artist's Alley)
(Enjoy this now, in an hour or so it will be crowded)
We kept walking for awhile checking out some interesting stuff like a life-sized signed Spider-Man picture with Spidey's head cut out by legendary artists John Romita Sr.and John Romita Jr.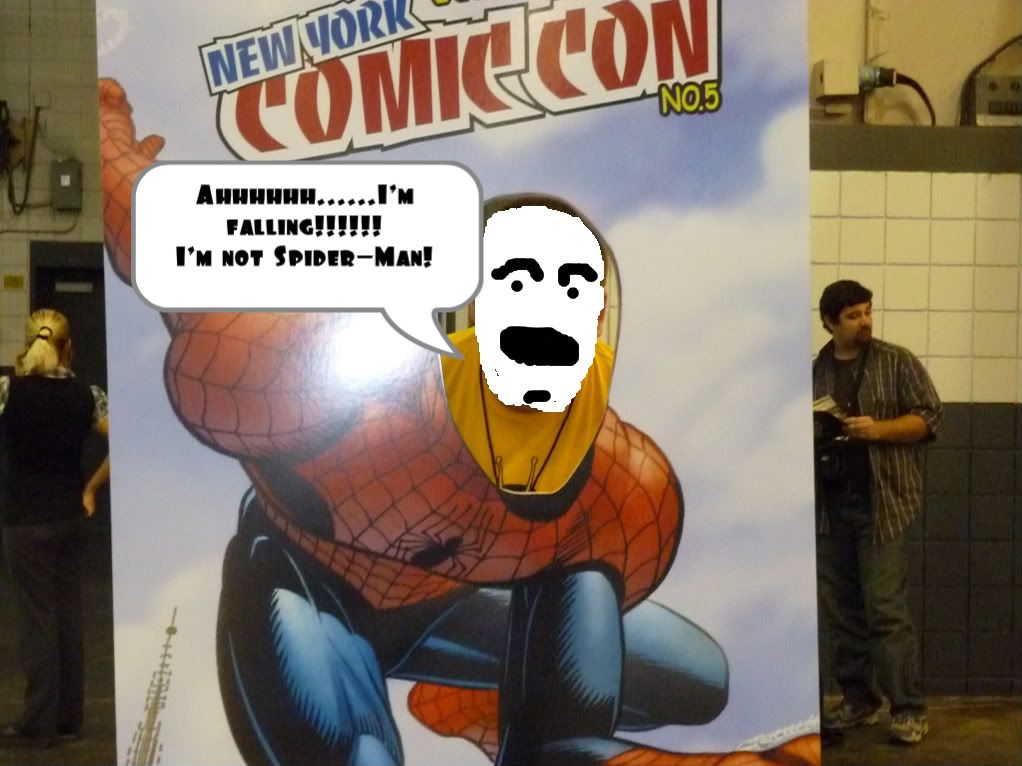 (Of course I then stuck my head in it for a picture-- yes, I am this pale.)
comics
) booth. It wasn't hard to miss with one side being dedicated to
The Walking Dead
.
Venture Bros.
with one of the vendors and he tells me that creator/writer Robert Kirkman will be signing at 3PM. After waiting awhile to get a ticket for the signing, I decided to go catch a panel until the signing (
I had about two hours to kill
). So I picked up my The Walking Dead hat from the Image booth and went to see what what Geoff Johns was doing with DC Comics.
Geoff Johns' Panel
(Gah! The lightning was horrible. You'd think I be there to listen to some smooth jazz instead of hearing a comic book panel)
Green Lantern
) and Barry Allen (
Flash
) he's also been behind many of the major DC yearly events including
Infinite Crisis
, last year's
Blackest Night
and this year's
Brightest Day
. Even though I haven't been reading comics (with exception to The Walking Dead trades) it's good to know what Johns' is doing with DC since he is such a major player with the company and frankly, I enjoy his writing. Here's some major points that I noted in no specific order:
- Not really a Geoff John's only announcement but DC has decided to drop it's $3.99 cover prices back to $2.99. Marvel is also doing the same with their comics.
- On a fan question about Christopher Nolan's comments that the upcoming Superman movie will have no connections to the Batman universe created by Nolan's
Batman Begins
and
The Dark Knight
and whether DC will ever have a similar movie merger like Marvel's
The Avengers
, Johns noted that he believes DC characters are better than Marvel (
more iconic?
) and that smushing multiple DC characters in a film to just do it would hurt the film.
- Had a big role in consulting for the upcoming Green Lantern film with a highlight of talking to director Martin Campbell and actor Mark Strong (
Sherlock Holmes, RocknRolla, Kick-Ass
) about the character of Sinestro (Strong will be Sinestro) for a few hours.
- He finished (or I had to leave) talking about the Flash and Aquaman. I enjoyed Johns' comments on writing characters. He said something that most characters are A list characters and hey only become B list characters when people write them that way. Johns also mentioned that he'd love to do a scene where Aquaman re-joins the
Justice League of America
and becomes the leader of the team.
So I headed back upstairs to meet Robert Kirkman. The line was crazy but I finally got to meet him and grab a picture.
I know I've only mentioned
The Walking Dead
about fifty times on these NYCC posts but I really think it's worth checking out the series. Right now, it's the only comic series I'm reading. Also, please check out
The Walking Dead
on AMC starting Halloween Night. AMC has made some great shows already and I think
The Walking Dead
will join that group.
Here's some final pictures as I was leaving the Image booth after the Kirkman signing.
(Erik Larsen let me take a picture for the blog)
Savage Dragon, Spider-Man, Amazing Spider-Man
) one of the founders of Image comics who was nice enough to let me take a quick picture while working on some art and interacting with the fans. I read Savage Dragon and his work on the Spider-Man books all throughout the 90's.
I then decided to head over to where the Mrs. was in line to get author Sherrilyn Kenyon's autograph. In the process I took some more pictures. This time of various people in costumes. What's a comic con without people in their favorite character's costumes?
(A Predator attacking a fan)
(More Predator fun)
(A friend of Dr. Strange here was telling me that it had taken them 2 hours to get across the exhibition room because everybody stopped him to take pictures)
(I think this was for a Spider-Man video game)
(I was digging these henchmen costumes [from the Venture Bros.], they were digging my RIP Henchmen 24 shirt. Good times had by all.)
Buffy, Angel, Torchwood, Caprica, Smallville
). I'm a big fan of his character Spike from his
Buffy The Vampire Slayer
and
Angel
days and have become a big fan on his voice work for the audio book versions of Jim Butcher's The Dresden Files. So I figured I'd get an autograph.
(not my best photo work here, sorry)
The Dresden Files
and that I felt he really sounded like Harry Dresden to me. Have you noticed that when you read a book or a comic and you "hear" a voice in your head of each character? Ever then see a live action movie/cartoon/audio of that character and are disappointed? Well, when I listened to Marsters on the audio book, he sounds like the voice I "hear" when I read the books....pretty cool. Anyway some info. on those audio books. It takes 4-5 days, at about 9 hours/day to record.
(and my autograph)
The first panel featured Bruce Timm (
right, Batman: The Animated Series
) and Michael Jelenic (
left, Wonder Woman
) talking about a few new animated movies coming from DC including a
Superman/Black Adam/Shazam!
short and a animated version of Grant Morrison's
All Star Superman
.
(from L to R: Macaulay Culkin, Matthew Senreich, Claire Grant and Seth Green)
from Home Alone
) in one segment of their Christmas special. There was a lot of questions aimed towards Culkin and whether he plans on doing more movies anytime soon. Seth Green said something like, if you've already accomplished so much by the time you're 14 and can retire you can pretty much do whatever you want.
(Jackson Publik (left) and Doc Hammer (right))
Venture Bros.
panel. They have no moderator (
frankly, it wouldn't make an sense to have one
) and mostly it's them chatting with the crowd, doing character voices and being hilarious for an hour plus. I wish I could have taken notes, but it would have been hard to do so since you really can't stop laughing. If you're a Venture Bros. fan and want to know more email me, a lot of what I remember were inside jokes for the fans of the series.
End of Day 1......Recaps for Day 2 and Day 3 coming soon.