(McNabb tossing the ball around during the good old days of training camp 2010)
Did we see this coming months ago and just ignored it? Read on fearless viewer:
" The biggest concern I would guess would be the accuracy of Donovan McNabb. He threw some classic McNabb passes and a few not-so-classic passes that led to interceptions (one being a major overthrow). But it's early and we'll see if this remains a problem throughout the season. I'm not that worried about it as of right now."
I guess it's time to worry now, huh?
It wasn't just me who noted inconsistencies in McNabb's game. From John Keim to Jason Reid, beat writers were noticing that McNabb didn't practice well during camp. The understanding was that he didn't normally practice well during his Eagle days and was much more "McNabb-like" in real game situations than on the practice field. During the preseason McNabb had some good passes and a few bad ones. At the time I was more surprised by some of the fans who seemed stunned to see one of McNabb's notorious ground balls thrown to a wide open receiver. It's like they had never seen any of that when McNabb played as an Eagle for 11 seasons.
You don't mind bad performances when the team wins. Ugly wins have been the Redskins mainstay for almost the past decade and I've grown used to them (
despite barely winning and looking lousy in the process annoys the hell out of me- but a win is a win and I'll take an ugly win over a tough loss any day
). Plus, McNabb lit up the Texans for 426 yards in week 2. So you'd think everything was okay. What we didn't know was that the Texans have one of the worst pass defenses in the league and things were going to get more difficult as the season progressed.
Two clear cut indications should have been noted during the Eagles and Bears games. The Eagles game should have been McNabb's homecoming. Case in point- Brett Favre. When Favre got a chance to face the team that "wronged" him (
Packers
) for the first time as a Viking, he lit the Packers up for 271 yards on 24/31 attempts and threw 3 TDs. McNabb on the other hand, struggled (
Ed. note- in the first half McNabb actually looked good against the Eagles, by the 2nd half he was dreadful
) throwing for 125 yards on 8/19 attempts with 1 TD and 1 INT. The Bears game was McNabb coming back to his hometown of Chicago....and yet again he struggled (
17/32 200yds. 1 TD, 2 INTs
). McNabb just looked out of sync in a scheme that requires timing and precision and this was on the rare occasion that he had time to throw the ball. In most cases he didn't.
It's not fair however to lay all of the blame on McNabb's shoulders. The offense has many people to blame and many reason for why it's so inept. The offensive line isn't much better than the porous mess that we saw in 2009. While I give the Redskins credit for spending their 2010 1st round pick on an offensive lineman (
Trent Williams
) and investing on some linemen to develop for the future (
Selvish Capers, Erik Cook
) the line has been so badly neglected that it may be another year or two before all of the right pieces are in place to protect the quarterback and have a decent run game. At this point, I think it's fair to say that 3-4 positions need to be filled for 2011. Clinton Portis is injured again and the Redskins have had to rely on inexperienced and young RBs to fill the void. While Torain and Williams have done a decent to excellent job of running the ball, they don't scare opposing defenses (
yet
) and lack the amazing pass blocking skills of Portis.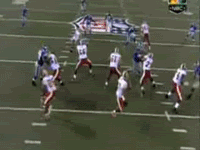 (I miss Clinton Portis' pass blocking)
The receiving corp. hasn't been much help either. Sure, Moss and Cooley are having great years and Anthony Armstrong is having a break out season but all three have dropped way too many passes. Fred Davis has been barely used and also have dropped a few too many passes. Roydell Williams and Joey Galloway shouldn't even be on the roster. Those spots should be held by Devin Thomas and Malcolm Kelly, but Thomas didn't impress (
he's not even being used in Carolina
) and was cut and Kelly is on IR (
again
). I also haven't been happy with the playcalling. Running the exact same play 2-3 times in a row in goal line and red zone situations don't make sense. I also don't understand the need to go away from the run game when it's working and to pass the ball when the QB is getting hit on every play (
that seems like something Dallas would do
).
Let's face it, something is not right with Donovan McNabb. Maybe his hamstring or the beatings he's taking week after week has hindered him and is making him rush throws. Maybe he's not comfortable with the scheme or on the same page with his receivers. Maybe he's just gotten older and has lost a little in his game. He still makes at least 1-2 amazing plays a game that makes you understand why the Skins wanted to trade for him and he's a player that teams have to prepare for while getting ready to face the Redskins. McNabb seems to be the leader we didn't have with Jason Campbell that has the entire locker room's support. With all of that said though, can the man run the two minute drill and can he live up to Mike Shanahan's expectations?
Shanahan had a valid reason to bench McNabb in favor of Rex Grossman. McNabb has the third worst QB rating (
around 41
) in the league during the 2 minutes before the end of the half/end of the game. Only Kolb and Delhomme have worse ratings. But I still don't agree with the move. Grossman came off the bench cold to face a very blitz/pressure happy Lions team that was running through the O-line like water through a sieve. McNabb is (somewhat) mobile, Grossman is not. Grossman's only true experience with the 2 minute drill in this system came in pre-season, so it's not like Matt Schaub was coming off the bench to save the team. What made it even worse was Shanahan's excuses for why he did it. Had Shanahan just said something about McNabb's hamstring, the press probably would have blown it off and went on their buisness gossiping about Brett Favre or Randy Moss. Instead, Shanhan says Grossman was better in the spot and McNabb isn't conditioned. I expect better from the like of Mike Shanahan and Bruce Allen. Frankly, I expect a better handling of the situation by men who have been in these positions for years and have had a good deal of success while in those positions. This whole situation stinks of what we saw in 2009 and you'd think Jim Zorn and Vinny Cerrato were still here making a mess of things and causing drama with the media.
In the end what makes me the most frustrated with the entire situation is the fact that McNabb may only be in DC for 1 year. Both sides have said they wanted McNabb to be here for "years to come" and that an extension would be done eventually. Instead, we fast forward to the present and we find that maybe the Shanahans aren't happy with McNabb's ability to pick up their scheme and his progress isn't where they want it to be. McNabb can't be happy with his benching and I have to think that he won't want to stick around with the Skins with a battered O-line and question marks at the RB and WR positions......especially when Minnesota will still be in position to compete for a championship in 2011.
You'd think that the Redskins would have done more homework in making sure that McNabb would be able to run things they way they wanted him to before giving up two valuable picks.
My biggest concern
when we traded for McNabb was the loss of two picks (
that means 2 young players with potential to be NFL starters
or at least key contributors) in the next two years (
2010, 2011
) to a divisional foe no less. What will make it even worse is if that loss of two picks turns out to be just for a one year rental of the player that hoped would carry the franchise for the next 3-5 years. If true, that my friends well....just sucks and its a more boneheaded move than what Snyder/Cerrato did with trading for Jason Taylor.
The Redskins went into their mid-season break making a mess of things despite going 4-4 (
not bad for a team that was 4-12 in 2009 and had one of the toughest schedules in 2010
). They have eight weeks to clean things up and hopefully the Redskins can figure out how to succeed with this offense and with this quarterback. If not, the Redskins will probably have to draft a QB with their 1st round pick leaving little room to draft more O-linemen (
after the 2nd round it's slim pickings with only 5-7th round picks remaining in the Skins draft
) and starting to fix the problems that got this team here in the first place (
struggling O-line
).