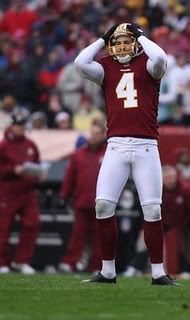 (Another D'oh Gano! moment)
And the 2010 season ends with a whimper and not with a bang as the Redskins tried to play spoiler to a desperate 9-7 Giant team who needed to win to have a shot at making the playoffs. The bad news was that the Redskins couldn't come back to win (
despite a valiant effort
) and the Giants finish 2010 with a 10-6 record. The good news was that the Green Bay Packers defeated the Bears, thus knocking the Giants out of playoff contention.
This game was much different than the previous meeting in New York as the Skins played a much better run defense and tackled. At one point it looked like the Giants were going to run away with the game as the Giants had a 10-0 lead as the game was near halftime. The Skins had a very nice drive that led to a 1 yard TD pass from Grossman to Fred Davis. Early in the third quarter, the Giants regained the ten point advantage thanks to a mistimed jump/coverage by DeAngelo Hall that led to a 92 yard catch and run for a TD by the Giant's Mario Manningham. The Skins again rallied with a beautiful 64 yard bomb by Grossman hitting Anthony Armstrong in stride, cutting the Giants lead to three.
What seemed to kill the Redskins was the four turnovers on offense (
3 fumbles, 1 INT
) and another easy FG missed by Graham Gano. Three of those four turnovers happened inside the Giants 30 with two happening in the Red Zone. Had the Skins held onto the ball, it would have given them at least three opportunities for field goals. That said, Graham Gano missed a easy 30 yard FG in the 1st quarter, so it's hard to tell if they would have gotten anything if it came down to FG attempts.
Plenty of
The Good, The Bad and The Ugly
........so let's get started.
The Good
- Anthony Armstrong (2 catches, 84 yards; 1TD).
I don't know how this guy always tends to get wide open deep at least once a game, but he does.
- Santana Moss (9 catches, 74 yards).
Another big game for Moss, although he had one critical mistake (
see bad
) that cost the Skins late in the game.
- Keiland Williams (4 catches, 47 yards; 1 carry, 4 yards).
Did a nice job with the pass catching but what impressed me the most was his pass blocking. He has drastically improved on that critical skill.
- Chris Cooley (5 catches, 53 yards).
Another solid game albeit quiet game. Cooley also has done a better job as a run blocker from what I saw.
- Fred Davis (2 catches, 20 yards; 1 TD).
It was nice to see some balls thrown at him and he didn't disappoint.
- Brandon Banks (KR: 23 yard average, Long 28; PR: 24 yard average, Long 29).
Always making plays and made a dull game into an exciting one.
- Anthony Bryant and Adam Carriker.
Both had good games and did a decent job of containing the run or at least running down the play.
- Kevin Barnes and Reed Doughty.
Both are good hitters both made some good stops throughout the game. Doughty is a solid #2 SS for this team who can play FS in a pinch for the Skins. Barnes at this point might be competing with Kareem Moore to be the starting FS next season.
- Terrence Austin (2 catches, 41 yards).
Looks like Austin could be a significant contributor for the Skins next season.
The Bad
- Turnovers.
Rex Grossman made three turnovers with 2 fumbles and an INT and Santana Moss loss a fumble on the Giants 17. The three fumbles deep in Giants territory killed any chances of the Skins coming back.
- Miscommunication.
The Grossman INT happened on a route to Mike Sellers. Sellers went one way, Grossman the other. This same INT happened in Dallas on a similar pattern. If these guys are back next season (
big IF
), they need to get on the same page.
- Graham Gano.
You have got to make almost all of your FGs inside 40 yards in your home stadium. Have to. Look, I'[ve been backing Gano since last year. I see the potential that Mike Shanahan sees and I think he has an awesome leg. That said, the Skins have to bring in at least one kicker to compete with him this off season and if Gano shanks another short FG in preseason, he's got to go. No more excuses.
- DeAngelo Hall.
Can't get burned like that. Classic D. Hall who takes risks and sometimes they pay off, sometimes (like this game) they don't. This risk cost the Skins the game.
- Scheme.
Why is Chris Cooley blocking Osi Umenyiora one on one a few passing situations? A clear mismatch and the Skins paid for it.
-O-line.
They had some good moments and I thought Will Montgomery had a good game. That said, both Jammal Brown, Trent Williams and the interior struggled at times against the Giants D line. Not that surprised though, they are one of the better D-lines in the league, the Skins O-line is not.
- No sacks.
29 sacks on the year. Last year the Skins had 40. Yes, Haynesworth is part of the problem, but I also think it Andre Carter hasn't had a very good year as a OLB and Brian Orakpo hasn't been healthy and has been held a lot.
The Ugly
- Rex Grossman watch.
Nothing much to report. He had another mixed game. Two nice TD passes and at times Grossman dominates. At other times he makes some bad passes, doesn't feel pressure and is still shaky with mobility. Had three costly turnovers as well. My opinion, the Skins do need to re-sign Grossman to a back up QBs contract (I doubt that many teams will really want Grossman and that there will be a bidding war for his services) and use him as needed until the QB that the Skins draft is ready. Yep, the Skins need a elite/franchise QB and this team won't get far without one. Currently the Skins don't have that guy on the roster.
- Santana Moss
reaches career best. With the 9 catches on Sunday, Moss tops a personal best of 84 catches. He has 93 catches on the season.
- Chris Cooley
ties a career best in receiving yards in a season with 849 yards. He did this the first time in 2008. He is one catch short of tying Jerry Smith's Redskins record for career receptions by a TE. Two short of breaking that record. Cooley is also
scheduled to get his knee scoped
in the off season (
today
).
-
Skins finish 2-4 in the NFCE thus
clinching last place again
in the division despite having the same record with Dallas. The good news is that the Skins will not play Detroit next year but will face both the Vikings and the Cardinals thanks to the 4th place finish.
- Skins finish 2-6 at FedEx.
It makes it harder as Skins fans to justify buying tickets when they don't win at home.
-
The Redskins 6-10 record is
Mike Shanahan's worst
as a head coach.
-
With the dust settled, the
Skins will be drafting at #10 in the 2011 draft.
My hope is that somehow an elite QB prospect that will fit the team's scheme will fall into our laps. If you are a Skins fan and think we need to draft a QB this season, you need to hope that Cam Newton and Andrew Luck decide to become draft eligible. If that happens, there is a chance that the Skins may be able to get a good QB at #10. If not, then I hope the Skins can trade back and accumulate players through picks.
- 6-10 would make you think that there is not much to look forward to with the 2011 season and I would disagree. Actually, the Skins have started to improve, found some young players to take over a few positions and have cleared out some of the players that can't help the team in the long term. I'll have more on that in my season in review recap later this week.
- Actually called the Redskins final score for this one. I feel horrible for it. Yeah, I know it means nothing but I wished I had predicted the Skins winning 17-14.
Up Next: The Combine, Free Agency (
pending a new CBA
) and The Draft.......